Antelope Canyon: An Arizona Wonder That Will Leave You Speechless
If you are looking for an adventure that makes you feel like you are in a different world, Antelope Canyon in Arizona must be placed high on your bucket list. This gorgeous canyon is unlike many others that dot our remarkable country. Antelope Canyon is a slot canyon in northern Arizona with tall sandstone walls, unique natural designs, and visiting is an experience that you will never forget.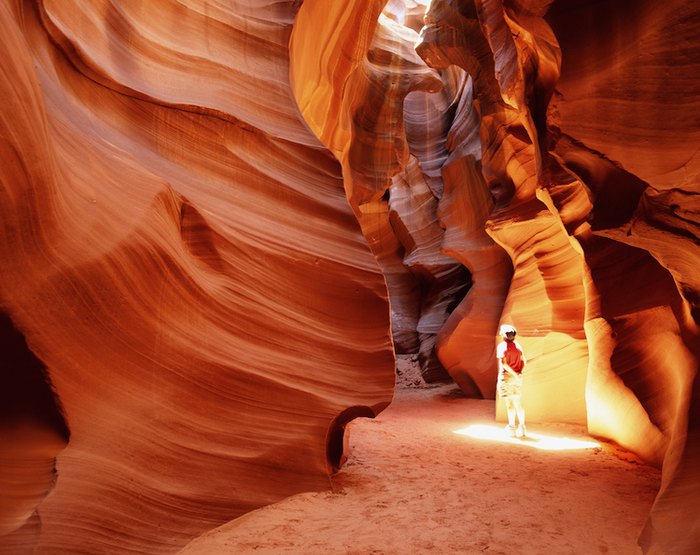 You can find a listing of permitted guide companies on the Navajo Nation Parks website, right here.
No matter what part of the canyon you choose to explore, you will create memories and capture photos that you'll cherish for years to come.
To learn more about Antelope Canyon and authorized tours into the canyon, click here.
General Information:
Accessibility: Antelope Canyon is not wheelchair accessible. While a wheelchair can reach the upper canyon's entrance, the ground is sand, making it extremely difficult for those with mobility impairments to move. The lower canyon is not wheelchair accessible as there are stairs and ladders you must climb.
Pet-Friendly: Antelope Canyon is generally not pet-friendly. As you cannot hike on your own throughout the canyon, you must follow all rules and guidelines from your tour company. However, if you choose to bring your family pet to Arizona, there are pet-friendly lodging options and short-term boarding facilities in the nearby town of Page.
Parking: There are public parking areas near Antelope Canyon. However, since there are no self-guided hikes throughout the canyon, you will likely meet your tour at designated areas in Page, Arizona. You will receive parking instructions from your specific tour company.
Seasonal Access: Antelope Canyon is open year-round. However, March to October tends to be the peak season of this outdoor attraction. During these months, you will have a more difficult time scheduling a tour and you will find more people inside the canyon. The canyon may be closed on days with heavy rain.
Cost: The cost to access the slot canyon will depend on the type of tour, the amount of time spent in the canyon, and the tour company you choose. On average, you can expect to spend between $50 to $120 per adult for each tour.
When looking for a tour company, make sure to ask about all included permits, fees, etc. Most authorized tour companies will include the permits in the overall cost of the tour.
Feeling inspired to fill your Bucket List? Check out our previous feature of Maroon Bells in Colorado, Ruby Falls in Tennessee, and Acadia National Park in Maine, then subscribe to our weekly Bucket List newsletter to discover new destinations across the country that definitely deserve a visit.
Address: Antelope Canyon, Arizona 86040, USA
OnlyInYourState may earn compensation through affiliate links in this article.