Haw Creek Falls Recreation Area Is A Magical Waterfall Campground In Arkansas
You'll find plenty of places to cool off in the Natural State on a hot summer's day. We've talked before about a waterfall swimming hole in Arkansas … but what if you want to camp, swim, and hike near a waterfall? Luckily, there's a great spot for camping in Arkansas with waterfalls. Haw Creek Falls Recreation Area is one of the best places to camp in Arkansas – especially if you're looking for campgrounds with waterfalls! At the recreation area, you'll find nine primitive campsites. Most of them come with pedestal grills and picnic tables. The best thing about this campground is that you can see Haw Creek Falls from the campground, and it's only a short hike to two more waterfalls!
Though it's a fantastic place for camping in Arkansas or even just to explore for an afternoon, it is a primitive campsite, so you'll need to keep in mind that there are pit-style toilets, but no showers, sinks, or electricity. You'll need to bring your own water, too!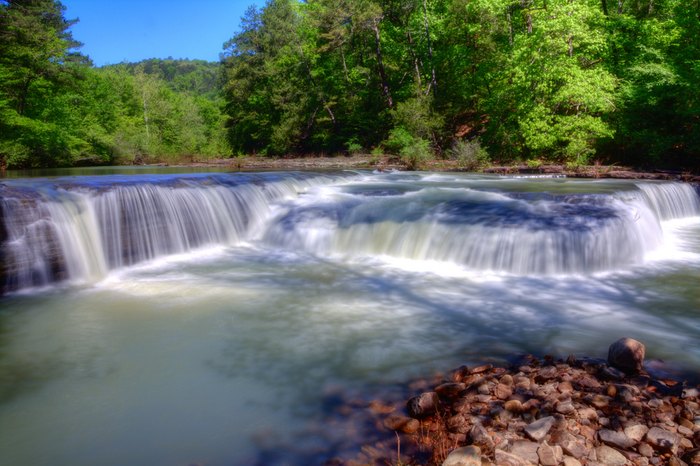 To find Haw Creek Falls Recreation Area, you have to go about 12 miles southwest of the community of Pelsor on Arkansas Highway 123. For more information, visit the USDA website.
So, what do you think? Are you ready to visit this spot for camping in Arkansas with waterfalls? Know of some more of the best places to camp in Arkansas? Tell us in the comments section.
OnlyInYourState may earn compensation through affiliate links in this article.
Address: Haw Creek Falls Recreation Area, Hagarville, AR 72839, USA
best places to camp in Arkansas
January 29, 2021
What are the most beautiful campgrounds in Arkansas?
When it comes to beautiful campgrounds, DeGray Lake Resort State Park doesn't disappoint. Arkansas' only resort state park, it features a 96-room lodge, three Rent-A-Yurts, and dozens of campsites. But the park's perks don't end there. Situated in the foothills of the Ouachita Mountains and nestled along the north shore of DeGray Lake, it's both picturesque and brimming with recreational opportunities, including hiking, fishing, golfing, swimming, and much more. Mount Magazine State Park is another Arkansas spot that boasts breathtaking beauty -- and options for overnight lodging. The highlight of the park is without a doubt Mount Magazine, which, at 2,753 feet, is the state's highest point. However, that's not all the park has to offer. There's also a 60-room guest lodge with lots of amenities, cabins, and campsites.
Where else can you cool off on a hot Arkansas day?
There are lots of places to escape the summer heat in Arkansas. One such spot is Smith Creek. Tucked away in the Smith Creek Preserve, the creek is surrounded by hiking trails and lots of wildlife, making for a swim spot that's both secluded and refreshing. The beautiful Blanchard Springs is another great place for some fun in the sun… and water. Located in Mountain View, the popular swimming hole boasts scenic beauty and a waterfall. As an added bonus, Blanchard Springs Cavern is located nearby.
Are there any easy-to-access waterfalls in Arkansas?
Some Arkansas waterfalls require a strenuous hike to reach, but not all of them. There are several falls in the state that can be accessed with very little effort, such as Natural Dam Falls. Though not incredibly tall, it's 200 feet in length and features multiple cascades, making it quite the sight. The best part is that it's just a short walk from the parking lot. Little Missouri Falls is another waterfall that's fairly easy to access. Reaching the multi-tier fall requires a bit of a trek, but at just a quarter mile, it's an accessible Arkansas hike that's doable for most ages and skill levels.