The 7 Most Terrifying Drives You Can Possibly Take In Arizona
Arizona is known for its gorgeous scenic drives, but sometimes those very same roads can seem a bit daunting. Twists, curves, two narrow lanes through canyons or mountains, dirt roads, and even dodgy environmental conditions can turn a leisurely drive into a stress-inducing experience. Some of them are the most dangerous drives in Arizona! However, these same roads are ones that not only test your driving ability but also turn out to be a truly fun ride. Here's a look at a few of those roads: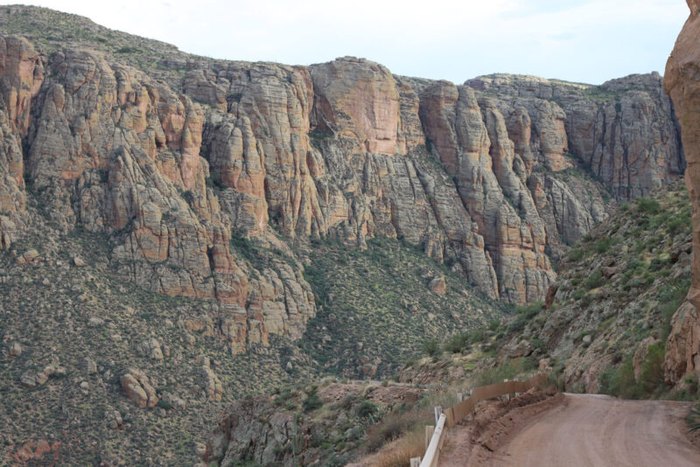 How many of these did you survive driving? Are there any others that would make you think twice? Be sure to let us know what you think by leaving a comment, or discuss your picks on our Facebook page!
Do you want to check out more fantastic drives around Arizona? Check out some of our suggestions for backroads in Take These 10 Country Roads In Arizona For An Unforgettable Scenic Drive.
OnlyInYourState may earn compensation through affiliate links in this article. As an Amazon Associate, we earn from qualifying purchases.
More to Explore
Most Dangerous Drives In Arizona
What are the most dangerous roads in Arizona? 
Every state has its dangerous roads, but Arizona ranks a little higher than most in terms of sheer numbers. In fact, two of our highways were ranked among the most dangerous in the entire country. Some of them include Interstate 19 in far southern Arizona, which has a fatality rate of one for every .90 miles of highway. US Route 93 is one of Arizona's worst, as well as one of the worst in the US. Worse still, its remote location ensures that emergency services take much longer than usual to arrive once summoned. The I-17 from Phoenix to Flagstaff is also quite dangerous, with one of the highest fatality rates in the US.  
Where are some scary places in Arizona? 
Arizona was once a part of the wild, wild west, and as a result, it's a well-known hot spot for ghosts, urban legends, and other spookiness. In fact, we're home to some of the most haunted towns in the United States, like Jerome. Jerome was once a booming mining town, but today, it's resigned to art galleries, wineries, and, of course, some of the best ghost tours you'll ever take. Spend a night in the asylum-turned-hotel known as The Grand Hotel, a place so haunted that photos of ghosts taken there are all over the walls. You also can't miss places like Superior, which is great for urban explorers and folks who enjoy abandoned and derelict structures.  
What are the best road trips in Arizona to take?  
Oh, goodness, where to start! Arizona is easily one of the most scenic states in the union, if not the world. You can't miss incredible drives like the 89A from the Verde Valley to Flagstaff; it runs right through the beautiful Oak Creek Canyon, as well as the world-famous town of Sedona. It has been named one of the Top 10 Scenic Drives in the United States. The Coronado Trail, otherwise known as Route 191, has more than 460 curves and might be the curviest drive in all the Copper State. For more of our favorite scenic Arizona drives, check this article out!  
Related Articles
Featured Addresses

Arizona 88, AZ-88, Apache Junction, AZ, USA

Catalina Highway, Catalina Hwy, Arizona, USA

U.S. 191, US-191, Safford, AZ, USA

South Interstate 10, S Interstate 10, Guadalupe, AZ, USA

Sitgreaves Pass, Arizona 86413, USA

Arizona 77, AZ-77, Tucson, AZ, USA

Arizona 89A, AZ-89A, Sedona, AZ, USA