Here Are The Best Times And Places To View Fall Foliage In Arizona
It may be September, but most of the state still feels like summer. While we wait for those triple-digit days to dwindle into something significantly cooler, we can start making plans for fall weather activities. This includes checking out the changing leaves throughout the state, and it looks like those activities may commence much sooner than you think! Check out this interactive map from our friends at Smoky Mountains for the best days and times for fall foliage in Arizona: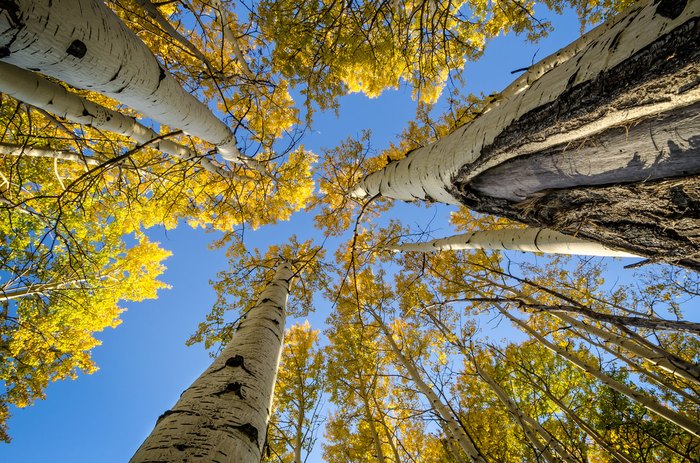 The Smoky Mountain fall foliage prediction map can be found on the official SmokyMountains website. You can also read about the science behind the color change and why the leaves eventually fall from the trees.
What are you looking forward to seeing or doing once the fall season arrives here in Arizona? If you're looking forward to checking out the pretty leaves, you'll want to take an amazing Arizona fall foliage road trip. We know you'll be truly impressed if you've never seen Arizona's beautiful fall season!
Fall Foliage in Arizona
September 12, 2022
Does Arizona have fall foliage?  
Arizona is often thought of – mistakenly – as nothing but a desert wasteland, where there are exactly two seasons: hot and hotter. But little do most folks know that Arizona has plenty of A+ destinations for fall foliage, and it's impossible to keep track of them all. Fall color will begin to peek through in late August, and by mid-September, lots of the northernmost areas of the state are in mid-transformation. Of course, you can find fall foliage in Arizona all over the state, though as a general rule, the higher the elevation, the more dramatic the foliage.  
Where are some of the best places to see fall foliage in Arizona? 
We have so many favorites when it comes to incredible fall foliage in Arizona; it's almost impossible to specify every single one! We do have some favorite places for fall colors in Arizona, though, like the entire town of Flagstaff. Flagstaff is home to some of the most brilliant fall color hikes in Arizona, and the changing of the trees in September and October rivals stunning displays you'd normally find on the east coast. Should you be closer to southern Arizona, head up to Mount Lemmon, near Tucson, for some of the most spectacular fall foliage in the desert southwest (that looks and feels nothing like a desert in any way).  
Where can I view the most amazing Arizona fall colors?  
The list of amazing fall foliage destinations in Arizona continues; other excellent places to spot changing leaves in the Copper State include the amazing Arizona Snowbowl, north of Flagstaff, and Oak Creek Canyon, near Sedona, which is simply incredible. There are numerous amazing fall foliage drives in Arizona (like Oak Creek Canyon), such as State Highway 260, which will lead you to Pinetop-Lakeside awash in epic color. In southern Arizona, you'll want to explore Aravaipa Canyon, the Santa Catalina Mountains, Madera Canyon, and plenty more. As long as you know where to look, you'll know where to find the best of the best fall colors in Arizona.