These 5 Hot Springs In Wyoming Will Warm You Up This Winter
Warm up your winter by relaxing at one of the gorgeous natural wonders in Wyoming, a hot spring. Warm up in the healing, therapeutic water while you watch winter do its thing. These hot springs in Wyoming exude an ambiance of peace and tranquility, especially when the snow is quietly dancing on the water and creating a white blanket all around.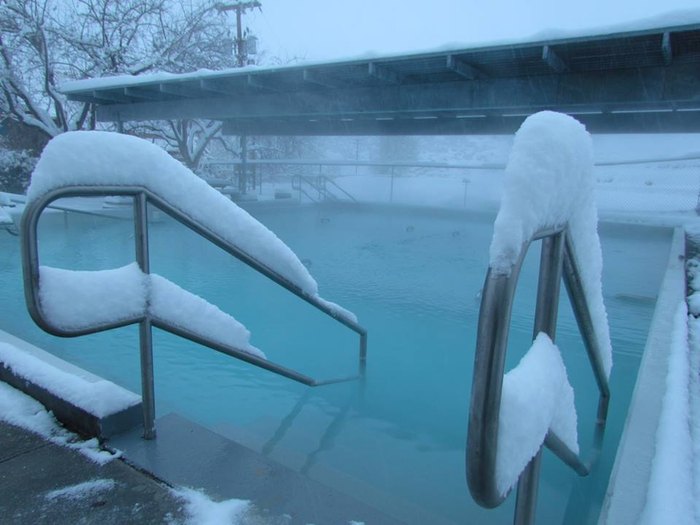 Many years ago, even the Native Americans and settlers used these hot springs year-round to soak up their healing powers and rest their weary bodies. Today, these hot springs in Wyoming continue to offer visitors rest and relaxation, and are Mother Nature's best therapy!
Check out our coverage of Granite Hot Springs for more information. And if you can't get enough of soaking in these restorative waters, check out our list of Wyoming hot springs.
OnlyInYourState may earn compensation through affiliate links in this article.
More to Explore
Hot springs in Wyoming
What's the best hot springs in Wyoming?
While all of the above hot springs in Wyoming offer guests true R&R, Hot Springs State Park is another one of the best hot springs in Wyoming. The aptly named Wyoming town of Thermopolis is a hotbed for hot springs; in addition to boasting to numerous smaller pools, this town is also home to Hot Springs State Park. This park has some of the best hiking in the country, as well as a free public bathhouse with indoor and outdoor pools, perfect for soothing your muscles after hiking in the park. Soaking in the 104-degree waters while surrounded by the Wyoming wilds (this area is home to numerous bison herds, in fact), makes for a wholly wondrous, once-in-a-lifetime experience.
What are some beautiful places in Wyoming?
We've compiled a list of the most beautiful places in Wyoming, some of the most appealing spots are:
What are some fun winter day trips in Wyoming?
If you're looking for a fun winter day trip in Wyoming, then you can't go wrong in Jackson, Wyoming. With dozens of hotels, rentals, restaurants, ski shops, retail shops, boutiques and even bakeries all within walking distance of the town square, Jackson is a one-stop vacation town! And in the winter, when flurries are fluttering through the air and a quiet peacefulness descends upon the state, there's nowhere more magical.
Related Articles
Explore Wyoming