Take This Hidden Gems Road Trip When You Want To See Some Little-Known Places In Wyoming
When it comes to exploring Wyoming, you're pretty much guaranteed to find a spot you've never stumbled upon before. With big open spaces that let the imagination run wild, it's a blast to discover hidden gems in Wyoming every chance we get.
The state is so large and so packed with beauty, that it's almost impossible to see everything in any particular area! We've put together a road trip that highlights some hidden gems in the Bighorn Basin area. Take a look at these unique things to do in WY and plan a trip to see all of these interesting spots that you're sure to love.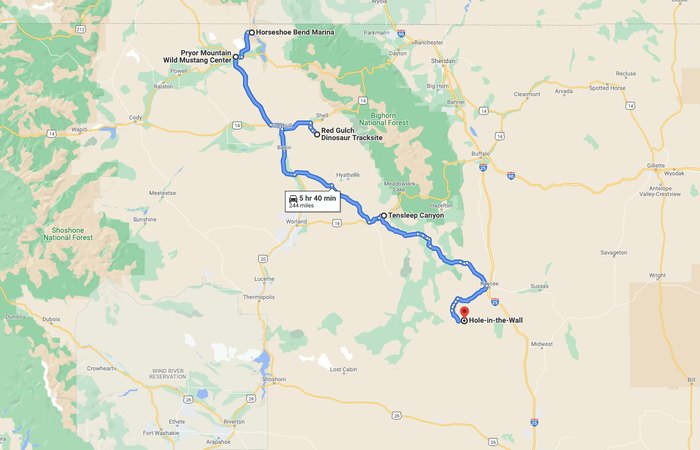 So, what do you think, are you ready to rope a wild mustang and explore more secrets of Wyoming? These spots are so gorgeous and remote that you'll hardly believe you're here in Wyoming; you'll need someone to pinch you to make sure you aren't dreaming!
What hidden gems in Wyoming have you discovered? We are always looking for cool unique places to add to our Wyoming bucket list.
OnlyInYourState may earn compensation through affiliate links in this article.
More to Explore
What are some unique things to do in WY?
Where can I find hidden gems in WY?
You can find awe-inspiring hidden gems in Wyoming right outside your front door. But if you need a little more direction than that here are a few epic places to add to your Wyoming bucket list: (Read the whole list of hidden places in Wyoming here)
1. The Red Desert: This beautiful sandy oasis in Wyoming is simply breathtaking. You'll find the Killpecker Sand Dunes in the 9,320-mile-wide Red Desert. Wind-swept ridges against a crystal blue sky go a long way to helping us appreciate the vast wonders of our world.
2. Jenny Lake Lodge: If you'd rather spend some time in the remote forests of Wyoming this charming cabin is hidden away in Grand Teton National Park. Take your pick of private cabins or stay at the lodge. They are equally cozy and romantic for a weekend getaway.
3. Sinks Canyon State Park: These rock formations are epic! It's like landing on a wild unexplored new planet right here at the foot of the Wind River Mountains. Aptly named because these rock formations look like they were created from high-velocity winds.
4. Treetop Adventure Park: If you love natural beauty and invigorating adventures this treetop park in Jackson Hole, WY is amazing. It's an adventure course filled with zip lines, high swinging bridges, and death-defying heights above the tops of the tallest trees with mountains in the distance.
5. Granite Hot Springs: You've never seen a hot spring like this one in the Bridger-Teton National Forest. It's more like a crystal-clear swimming pool than your typical tiny geothermic pool. The interesting thing about this pool is that it is actually warmer in the winter months! Settle into a cozy 112-degree pool and soak your worries away.
6. Island Lake: Keep this one on the down low as this hidden gem is only known to locals around the Island Lake, WY area. Beautiful Fremont Peak is the backdrop to this stunning lake. The only catch is that you need to take a 10-mile hike to get there. Boy is it worth it though.
Related Articles