The Ultimate Weekend Itinerary If You Love Spending Time Outdoors In Wyoming
Beautifully diverse and full of quiet, sweeping landscapes, the eastern part of Wyoming is all too often overlooked in favor of the towering mountain ranges and national parks of the west. It's a shame because this quiet, sun-soaked region has so much to offer! While well-known for being home to the state capital, Southeast Wyoming is also packed with a diverse array of outdoor adventures and activities, including prehistoric fossil dig sites, numerous stops on Wyoming's dinosaur trail, plenty of larger-than-life natural wonders, and even waterfalls, beachy lakeshores, and national forests galore. To get you started, we have a short and sweet weekend getaway planned out that only takes a few hours of drive time, and comes complete with a number of extra sights, detours, and recommendations that can be tailored to your preferences. Pack plenty of snacks and embark on this fun, off-the-beaten-path road trip through Southeast Wyoming!
From national parks and campgrounds to waterfalls, canyons, and more, there is so much to love about America's natural splendor — and June, designated as Great Outdoors Month, is the perfect time to get outside.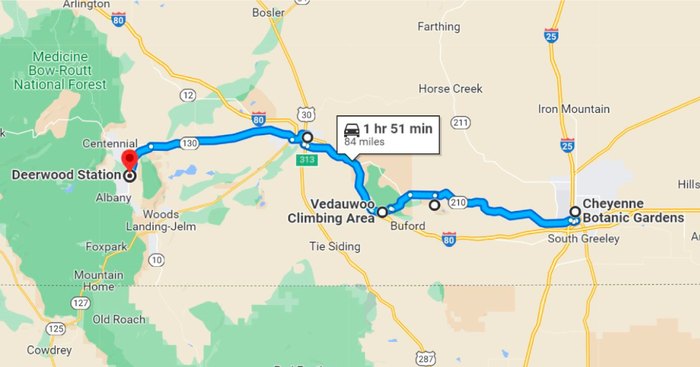 Stroll Through the Cheyenne Botanic Gardens
Fountains, foliage, flora, fish … the Cheyenne Botanic Gardens is a crowning jewel of Wyoming's capital city and a must-visit for every Wyomingite. Here you'll find numerous walking paths winding through multiple garden ecosystems and whimsical art displays, ranging from desert cacti to tropical hibiscus and everything in between.
Make a Splash at Curt Gowdy State Park
Sun's out, boats out! Wyoming has a dozen state parks to its name, but Curt Gowdy State Park near Cheyenne is an undeniable diamond in the rough… especially when it comes to getting out on the water.
Monkey Around at Vedauwoo
Day two of this road trip beckons with even more fantastic outdoorsy activities.
Dine at Turtle Rock Coffee and Café
Kick back and dig into some refreshing eats at this namesake café after a hard day at play.
Sleep in the Real Wyoming at Deerwood Station
Just outside of Laramie, Deerwood Ranch awaits. Here, wrap up your road trip with a restful night of sleep immersed in the quiet beauty of Wyoming's great outdoors, but from the comfort of a warm bed and all the creature comforts of home.
This quick weekend road trip is only a small taste of the numerous outdoor activities and adventures that Southeast Wyoming has to offer, but no doubt once you begin to explore the area, you'll fall in love as much as we have! In fact, did you know that Cheyenne is often considered to be the Railroad Capital of America?
While you're out traveling and exploring the Cowboy State this season, don't leave your accommodations to the last minute! Check out some of our favorite Wyoming vacation rentals and hotels around the state.
OnlyInYourState may earn compensation through affiliate links in this article.