In 1949, Wyoming Plunged Into An Arctic Freeze That Will Make This Year's Winter Look Downright Mild
We're no strangers to winter here in Wyoming – it often snows and blows so much that we feel like we're in a snow globe. But one Wyoming winter truly stands out from the rest – have your parents or grandparents ever recounted memories from the brutal Wyoming blizzard of 1949?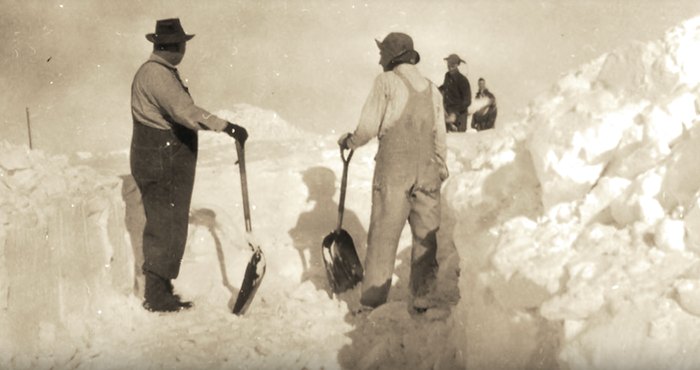 This was truly a Wyoming winter to remember. Do you have any stories from the Winter of 1949? Tell them in our Wyoming Nature Lovers Facebook group, and share your best snowy photos there too.
Wyoming's history is full of amazing events like this unbelievable true story about Heart Mountain.
OnlyInYourState may earn compensation through affiliate links in this article.
More Interesting Wyoming History
November 25, 2022
Are there any natural disasters in Wyoming?
There have been a few natural disasters in Wyoming over the years, some an act of nature and others, unfortunate events like airplane crashes and train wrecks. Here are a few historical natural disasters in Wyoming:
1. The Crash at Bomber Mountain: In 1943, World War II was raging in Europe, a B-17F-55-DL Flying Fortress left the base at Pendleton, Oregon to join a group of bombers headed overseas. The last known position was near Powder River Wyoming – the plane never made it to its destination. But it wasn't found until two years later. Bomber Mountain in Wyoming is named thus because that is where the plane was eventually found.
2. The Gros Ventre Landslide: On June 23, 1925, a massive landslide occurred after heavy rain and melting snow had weakened the side of Sheep Mountain. The trigger was an earthquake which caused a rockslide. The landslide was so intense it rose 300 feet up the side of an adjacent mountain.
3. The Yellowstone Fire of 1988: Wildfires are some of the fiercest natural disasters and the Yellowstone fire of 1988 was the largest in the park's history. Nearly 800,000 acres were affected by the blaze.
4. The Glenrock Train Wreck: Wyoming's worst train wreck occurred in 1923. The bridge spanning Cole Creek had washed away during a week-long storm. The train plummeted into Cole Creek killing 30 passengers.
5. The Blackwater Fire: One of Wyoming's deadliest fires occurred in 1937. It wasn't the largest with only 1,700 acres affected but this deadly blaze caught firefighters off guard as winds changed. Fifteen firefighters were killed and another 38 were injured.
6. The Teton-Yellowstone Tornado: Mountain tornados are extremely rare and Wyoming's biggest tornado just so happened to be up in the mountains of Yellowstone National Park. This F4 tornado in 1987 is the strongest in Wyoming's history and the strongest tornado at this high of an elevation.
7. The Hanna Mine Disaster: On June 30, 1903, methane gas exploded in one of the coal mines in Carbon County, Wyoming. One hundred sixty-nine miners were killed, and only 46 made it out alive. Tragedy struck again five years later when the mine exploded again leaving 18 miners trapped. Forty-first responders and an inspector rushed into the mine to save them, but it exploded again, killing all 59 people.
OnlyInYourState may earn compensation through affiliate links in this article.