18 Best Hikes In Wyoming: The Top-Rated Hiking Trails To Visit In 2023
Welcome to Wyoming, the land of stunning landscapes and breathtaking wilderness. We've compiled a list of the best hikes in Wyoming you gotta check out in 2023. From jaw-dropping mountain views to hidden waterfalls and everything in between, these top-rated trails have it all. Whether you're a seasoned hiker or just love exploring nature, Wyoming's got something for everyone. So, grab your backpack, pack your favorite snacks, and let's hit the trails for some unforgettable adventures in the heart of Wyoming.
Best Hikes in Wyoming
Wyoming offers some of the best hiking experiences, and three trails that should be on your list are the Cascade Canyon Trail, Delta Lake via Lupine Meadows Access, and Taggart Lake Loop. Cascade Canyon Trail takes you deep into Grand Teton National Park, while Delta Lake offers stunning views and the chance to extend your hike. Taggart Lake Loop is another popular trail with beautiful views of the Teton Range.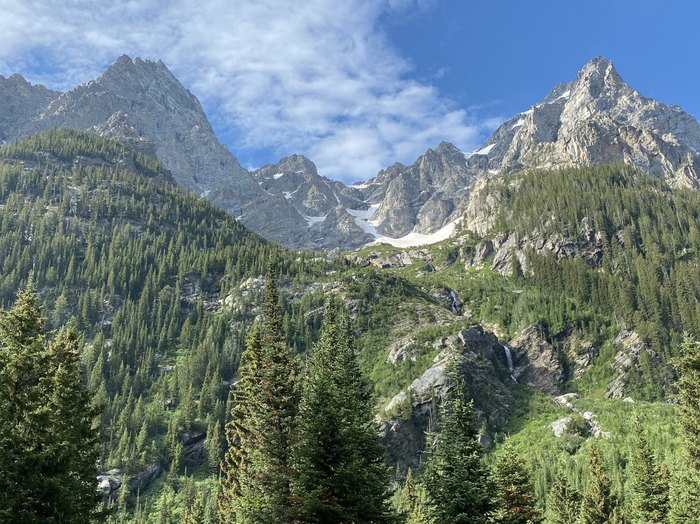 Best Short & Easy Hikes in Wyoming
If you're looking for short and easy hikes in Wyoming, three trails not to miss are Devil's Tower Trail, Colter Bay Lakeshore Trail, and Leigh Lake Trail: Short Version. Devil's Tower Trail offers a captivating experience with remarkable views. Colter Bay Lakeshore Trail is a scenic hike along the lakeshore, perfect for birding and hiking. Leigh Lake Trail: Short Version provides a nice, easy trail with amazing photo opportunities and views of String and Leigh Lakes. Enjoy these best short and easy hikes in Wyoming.
Hardest Hikes in Wyoming
For the adventurous and experienced hikers, Wyoming offers some of the most challenging trails. Darby Canyon Wind Cave Trail takes you through diverse landscapes, including meadows and woods, leading to a waterfall and a steep path to the cave. Middle Teton Southwest Couloir requires mountaineering skills, and the standard route involves a strenuous climb to the peak. Teewinot Mountaineering Trail is known for its danger and demands previous mountaineering or climbing experience. These hardest hikes in Wyoming promise thrilling and rewarding experiences for those up to the challenge.
Best Waterfront Hikes in Wyoming
Explore Wyoming's picturesque waterfront hikes that offer breathtaking views and serene settings. Inspiration Point via Jenny Lake Boat Shuttle takes you on a boat ride across Jenny Lake, followed by a moderate hike to a spectacular viewpoint. Hidden Falls Trail treats hikers to a short but beautiful hike to impressive falls. Phelps Lake Trail offers a scenic walk around Phelps Lake, perfect for wildlife sightings.
Best Winter Hikes in Wyoming
Embrace the magic of winter with the best Wyoming hikes that showcase the beauty of the season. Meander through the tranquil Meadow Trail and Pole Creek Loop, or immerse yourself in the landscapes of Upper UW, Blackjack Loop. For skiers seeking some fun, Wimpy's Summit offers a worthwhile winter journey. These Wyoming winter hikes cater to all levels, promising an unforgettable winter wonderland experience.
Best Hikes near Cheyenne
Ready to explore the best hikes near Cheyenne, Wyoming? Don't miss the awesome Crow Creek Trail to Hidden Falls – it's a bit busy but totally worth it for the cool waterfall at the end. And speaking of Hidden Falls, take the out-and-back trail to enjoy views, wildflowers, and lush scenery, with plenty of space for your furry pals too! Looking for some fun and a bit of challenge? Check out the Crow Creek, Mo Rocka, and Foxtrail Loop for rad vistas, cool rock formations, and a moderate hike.
Have you explored these best hiking trails in Wyoming? Do you think they are the top hiking trails and best places to hike in Wyoming? Share your experiences and let us know which trails are on your bucket list. We're excited to hear from you!
Whether you're an experienced hiker seeking elevation gain and switchbacks or a beginner looking for a day hike to check out the alpine lakes and mountain ranges, this hub offers a wide range of options to meet your needs. And don't forget to take advantage of the opportunity to try Try AllTrails+ For Free, providing you with even more resources and features for your hiking adventures!
OnlyInYourState may earn compensation through affiliate links in this article. As an Amazon Associate, we earn from qualifying purchases.
More to Explore
The Best Hikes In Wyoming
Does Wyoming have good hiking trails?
Wyoming's best hiking trails include:
Tongue River Canyon in Bighorn National Forest
Cirque of the Towers to Fremont Trail Loop
Medicine Bow Peak Trail
Jenny Lake Trail
String Lake Trail
Grand Prismatic Hot Spring
Sacred Rim near Pinedale
Washakie Pass Loop to Cirque of the Towers in Wind River Range
What are the best months to hike in Wyoming?
The peak season for hiking in Wyoming is during the summer months of June through August. High summer attracts the most visitors to the state's national parks, with temperatures reaching their highest points.
Related Articles
Explore Wyoming
Featured Addresses