This Amazing Trail In Wisconsin Takes You Through Abandoned Train Tunnels
The Elroy Sparta trail is primarily known as a bike trail, but it's open for walkers and runners as well – and no matter what your preferred method of exploration is, you're going to want to check it out as soon as you get the chance. This 32.5-mile trail is the very first of its kind in the entire country – it's a railroad line converted into a trail (hence the moniker of "rail to trail" area). Wisconsin has an awesome history of providing public spaces, and turning railroad lines into public trails fits very much into our state's ethos. Rails-to-trails is a full movement across the US now, but we here in Wisconsin get to brag that we were first. This particular awesome local trail goes through not one, not two, but three different abandoned train tunnels for a totally amazing and highly unique experience.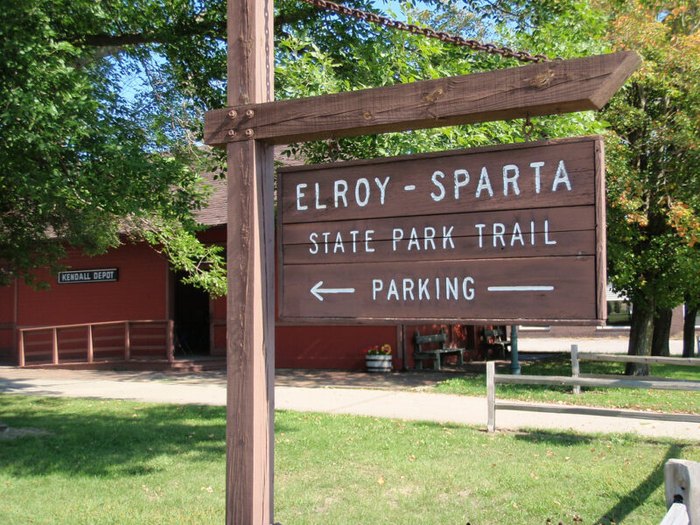 Have you ever hiked or biked the Elroy-Sparta? Let us know about it in the comments!
Looking for more amazing and unique Wisconsin rails-to-trails conversions? Check out Take These Trails Along Former Wisconsin Railroad Lines For An Unforgettable Experience.
Address: Elroy Sparta State Trail, Sparta, WI 54656, USA
Address: Elroy Sparta State Trail, Elroy, WI, USA
Elroy Sparta Trail in Wisconsin
March 04, 2021
What's the best train tunnel hike in Wisconsin?
The famed-for-a-reason Elroy Sparta Trail in Wisconsin is a stunningly beautiful and ridiculously unique hike through old train tunnels that will make you feel like you've entered another world. There are three old tunnels on the trail, and interestingly, this was the first-ever "rail-to-trail" hike in the United States. It would seem Wisconsin started a trend – one we can definitely get behind.
What are some unique hiking trails in Wisconsin?
With hundreds of hiking trails throughout Wisconsin to choose from, some of them stand out as more unique than most. For example, the Ice Age Trail is special because it's one of just 11 national scenic trails in the United States! It also seems to have no end, at an incredible 1,000 miles long. Obviously, you won't be getting this hike done in a day, but it's well worth the time spent for just a few hours, too.
What are the best Wisconsin hikes?
The Devil's Lake State Park is home to the most popular hike in the state, and for good reason, Devil's Lake is astonishingly blue and seemingly ever-clear, and the camping there is second to none. Hike in, camp out, and be amazed. Another super-popular-for-a-reason destination, Peninsula State Park, is 4,000 acres of beautiful views. Make sure to visit the lighthouse here, which was built in 1868. Interested in more beautiful Wisconsin hikes? Check this article out for more ideas.
Address: Elroy Sparta State Trail, Sparta, WI 54656, USA
Address: Elroy Sparta State Trail, Elroy, WI, USA