13 Places In Wisconsin To Find Outrageous, Over-The-Top Bloody Marys
Ready for some of the best Bloody Marys in Wisconsin? We get that for some folks, these accouterment-filled bloody marys are a bit too much. Bloody Mary purists don't love this fad of putting a whole meal in a Bloody as a garnish. This article is not for those people. Those folks can enjoy their spicy, spiked tomato juice at one of these awesome places and be quite happy. But if you love outrageous, ridiculous, how-will-they-top-that Bloody Marys, the following list is for you. Sobelman's started this trend by putting a fried chicken on a stick and calling it a Bloody Mary garnish and the rest of Wisconsin was not going to be outdone in scale or creativity. All across the state, folks are coming up with increasingly unusual and over-the-top ways to serve up a Bloody Mary and you're going to want to check them out.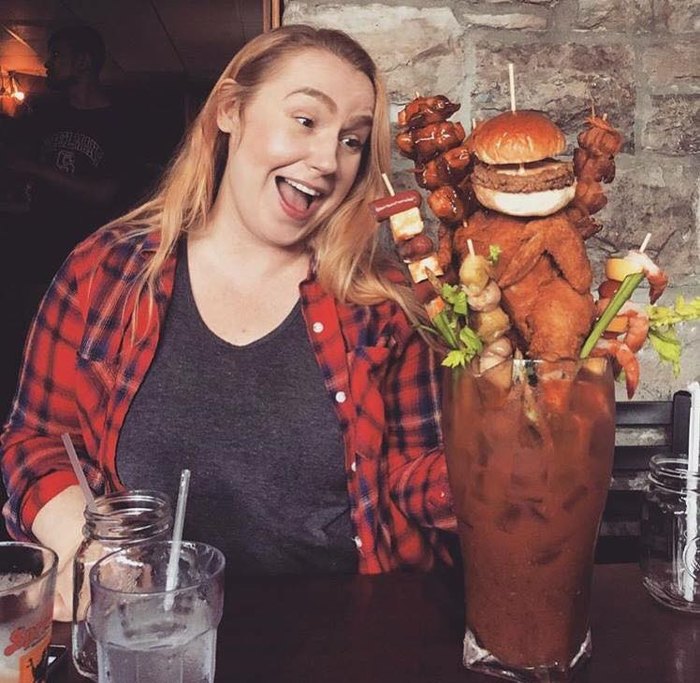 Where are your favorites from this list of best Bloody Marys in Wisconsin? Let us know in the comments!
What sort of crazy garnishes would you like to find in a Bloody Mary that you haven't seen before?
Big thanks to the Wisconsin Bloody Mary Aficionados Facebook Group for showing off some of the state's great crazy Bloody Marys.
OnlyInYourState may earn compensation through affiliate links in this article.
Address: 1601 W Wells St, Milwaukee, WI 53233, USA
Address: 500 Central Ave, Florence, WI 54121, USA
Address: Smashed on the Rocks, 70 Church St, Algoma, WI 54201, USA
Address: St. Paul Fish Company, Milwaukee Public Market, 400 N Water St, Milwaukee, WI 53202, USA
Address: 4010 Plover Rd, Wisconsin Rapids, WI 54494, USA
Address: 223 N Frances St, Madison, WI 53703, USA
Address: 111 Center St, Lake Geneva, WI 53147, USA
Address: W3220 Dundas Rd, Kaukauna, WI 54130, USA
Address: 814 N Church St, Watertown, WI 53098, USA
Address: 900 Kepler Dr, Green Bay, WI 54311, USA
Address: 2007 3rd St, Eau Claire, WI 54703, USA
Address: 16707 WI-32, Mountain, WI 54149, USA
Address: 345 N Broadway, Milwaukee, WI 53202, USA
Best Bloody Marys In Wisconsin
March 08, 2021
What is the most popular brunch restaurant in Wisconsin?
When the weekend rolls around, sometimes it's hard to think about anything but finding the best brunch in Wisconsin. Picture platters of pancakes, crispy bacon, or a seafood omelet loaded with Wisconsin cheese. If you want to experience one of the best brunches in Wisconsin then head on over to Harbor House in Milwaukee. For one low admission price, you'll get all-you-can-eat seafood fresh, with amazing waterfront views.
What are the local favorite restaurants in Wisconsin?
Finding the best local restaurants in Wisconsin isn't too hard, especially since the smaller towns and cities within the state have some charming mom-and-pop spots that locals love. In fact, there are so many classic Wisconsin restaurants, we've compiled a list of the best of them. Check out these 18 scrumptious Wisconsin restaurants that are classics.
What is the most popular restaurant in Wisconsin?
If you're visiting the Cheese State for the first time, you're probably trying to figure out where to dine in Wisconsin that will elevate your trip. Oftentimes, finding the most popular restaurant will bring about a beloved dining experience that will show you an authentic side of the state. In Wisconsin, that popular restaurant experience is The Immigrant Restaurant in Kohler. This AAA Four Diamond Award Winner boasts a truly memorable experience and is fine dining at its best.