18 Best Hikes In Wisconsin: The Top-Rated Hiking Trails To Visit In 2023
Step into the breathtaking beauty of the best hikes in Wisconsin for 2023! These top-rated trails are a nature lover's dream, offering a mix of scenic wonders to explore. Whether you're an experienced hiker or a first-timer, these trails promise epic views, captivating surroundings, and unforgettable outdoor experiences. So, tighten your hiking boots, embrace the spirit of adventure, and immerse yourself in the natural wonders that await in the enchanting Badger State.
Best Hikes in Wisconsin
Explore these top-rated hiking trails in Wisconsin! Don't miss Devil's Lake via West Bluff Trail, Balanced Rock Trail, and East Bluff and East Bluff Woods Trail Loop, which offer fantastic views, fascinating rock formations, and adventure in the great outdoors.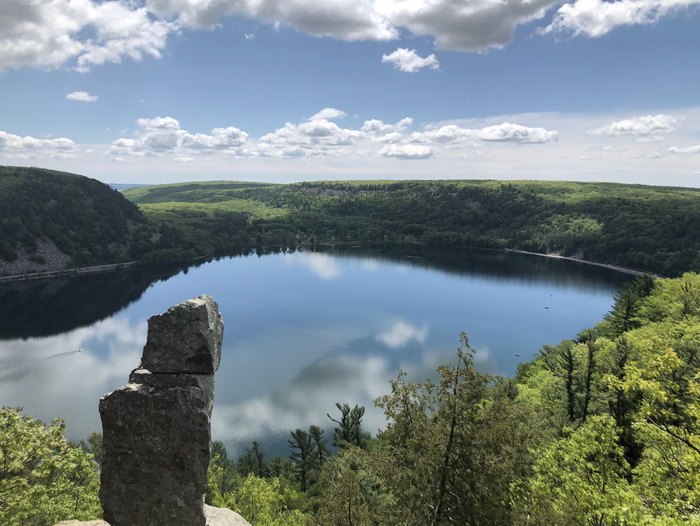 Best Short & Easy Hikes in Wisconsin
Wisconsin has some great choices of short and easy hikes, including Lion's Den Trail, Tumbled Rock Trail, and Willow Falls Trail to Burkhardt Trail. These scenic routes offer enjoyable walks that are suitable for all skill levels.
Hardest Hikes in Wisconsin
Challenge yourself with the hardest hikes in Wisconsin: Ice Age Trail: Devil's Lake to Parfrey's Glen, Ice Age National Scenic Trail: Devil's Lake Segment, and Marengo River and Porcupine Lake via North Country Trail. These trails offer thrilling adventures for experienced hikers, showcasing the state's rugged landscapes.
Best Waterfront Hikes in Wisconsin
Some of the best waterfront hikes in Wisconsin are Eagle Trail, Meyers Beach Sea Cave Trail, and North Country Scenic and Doughboy's Loop. These trails take you along the shores of Wisconsin and offer views of the water, sea caves, and picturesque landscapes.
Best Winter Hikes in Wisconsin
These trails offer enchanting winter scenery, from frozen waterfalls to snow-covered terrain. Strap on your snowshoes and explore the serene beauty of Wisconsin's winter wonderland on these exhilarating hiking adventures.
Best Hikes near Madison
Madison is a hiker's paradise, offering a variety of trails to explore. Some of the best hikes near Madison include Picnic Point Marsh Loop Trail, UW Arboretum, and Lake Monona Bike Loop. Each trail offers its own unique scenery and challenges, making them perfect for hikers of all skill levels.
Have you had the chance to explore any of these Wisconsin hiking trails? If so, do you think any stand out as the best for Wisconsin hiking? We're excited to hear your thoughts on the best hiking trails in Wisconsin!
Whether you're looking for a challenging trek with miles of trails and access to campsites in a national park or an easy trail with scenic views full of wetlands and wildflowers, this hub has everything you'll need, and be sure to Try AllTrails+ For Free!
OnlyInYourState may earn compensation through affiliate links in this article. As an Amazon Associate, we earn from qualifying purchases.
More to Explore
The Best Hikes In Wisconsin
Does Wisconsin have good hiking trails?
Wisconsin's best hiking trails include:
What are the best months to hike in Wisconsin?
Wisconsin offers fantastic hiking opportunities that can be enjoyed throughout the year. In spring and early summer, the trails come alive with vibrant wildflowers, while autumn brings a breathtaking display of fall colors, making each season unique and captivating for hikers to explore.
Related Articles
Explore Wisconsin
Featured Addresses