What This Drone Footage Captured At This Abandoned West Virginia Hotel Is Truly Grim
There's a hauntingly beautiful quality to ruins as if you can feel the presence of what once was. Like this drone footage captured of the historic Hilltop House Hotel in West Virginia. This beautiful abandoned building was once a sought-after luxury tourist destination, overlooking scenic Harpers Ferry. Now, it lies abandoned, and today we're going to explore this forgotten treasure. Have you ever heard of the Harpers Ferry haunted hotel?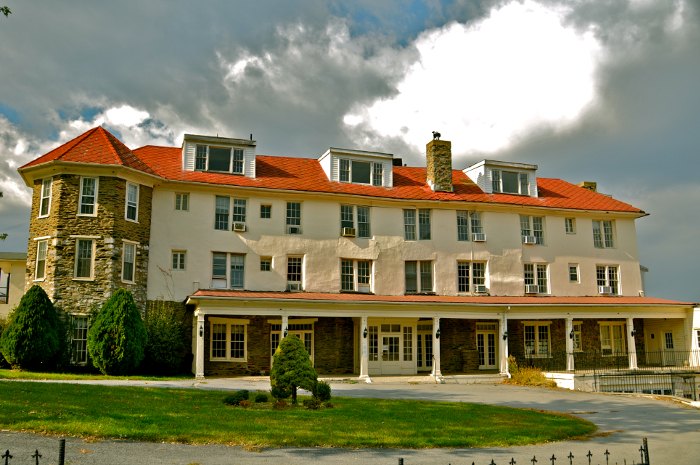 Here's a link to the full video of the drone footage of the abandoned Hilltop House Hotel in West Virginia:

This drone footage is absolutely breathtaking — and also a bit haunting. It's tragic that this hotel is deteriorating — but there is finally hope on the horizon for Hill Top House Hotel. Under new ownership, there are big plans on the horizon for this historical hotel, and you can view the proposed plans on the Hill Top House website.
Would you like to see more abandoned places in West Virginia? Here are some amazing photos of an abandoned amusement park that are beautiful… and haunting.
OnlyInYourState may earn compensation through affiliate links in this article. As an Amazon Associate, we earn from qualifying purchases.
More to Explore
Hilltop House Hotel in West Virginia
Are there any other abandoned places to visit in West Virginia?
West Virginia has several standing reminders of the past -- abandoned places that have stood the test of time to remain tall and remind us of our humble beginnings. St. George's Chapel in Charles Town was built by devout followers in 1798. It was the first called the English Church, then the Berkeley Church, and now it sits abandoned. Henry Clay Furnace in Morgantown was built between 1834 and 1836. It is 30 feet tall. It is believed that the furnace operated until 1868. It is among a handful of iron furnaces still standing in West Virginia. In Cass, the West Virginia Pulp and Paper Mill is another abandoned place in the state; the mill was in operation from 1908-1922. The mill building suffered through two fires in 1978 and 1982. Today only twisted metal, cracked cement, and rusted equipment remain. Finally, there's an abandoned coal mine in Stotesbury from the early 1930s. It was operated by the EE White Coal Company. Mining ended in Stotesbury in 1938. The Stotesbury Community church is still active, but the town itself is only ruins.
What are some hidden gems in West Virginia?
Lost World Caverns is one of our favorite hidden gems in West Virginia. Lost World Cabins, located in Lewisburg, is one of the most stunning natural wonders in the state. The ancient cave was discovered on July 11, 1942 when J.L. Wingfield, John Suter, George Mann and Leroy Frazier heard that Col. H.P. Moore had a mysterious hole on his property. When they took a closer look, the men discovered a mile of interconnected passages filled with stalactites, stalagmites, waterfalls, domepits, rimstone and flowstone that reached depths of 245 feet below ground. In 1967, the remains of a prehistoric cave bear, called Arctodus pristinus, were discovered in the cave. Today, the cave is open to tours, the most common of which is an hour long and leads visitors through the cave and many of its most popular formations. A series of walkways and steps guide you along the caves winding paths.
Does West Virginia have many haunted places?
West Virginia is full of ghost stories. It's not surprising, as the state was so important in the Civil War. It also has a number of burial grounds from indigenous culture, and plenty of preserved historic buildings provide atmosphere for the spookiest stories. We put together this haunted road trip that visits nine of the most haunted spots in the state.
Related Articles
Explore West Virginia
Featured Addresses

400 E Ridge St, Harpers Ferry, WV 25425, USA