The 18 Best Campgrounds In West Virginia – Top-Rated & Hidden Gems
Get ready for an insider's guide to the best camping in West Virginia – a mix of top-rated spots and hidden gems that'll take your camping game to the next level. Whether you're a camping pro or just starting out, the Mountain State has a little something for everyone. From epic state parks to those secret forest getaways, these campgrounds are where the real adventure begins. So, let's dive into the natural wonders of West Virginia and find that perfect camping spot you'll be bragging about for years to come!
Best State Park Campgrounds in West Virginia
Have you ever explored the campgrounds at West Virginia's state parks? If not, you're in for a treat. Picture this: majestic mountains, crystal-clear streams, and a wealth of outdoor activities like hiking, fishing, and stargazing. So, let's jump right in and explore these incredible campgrounds!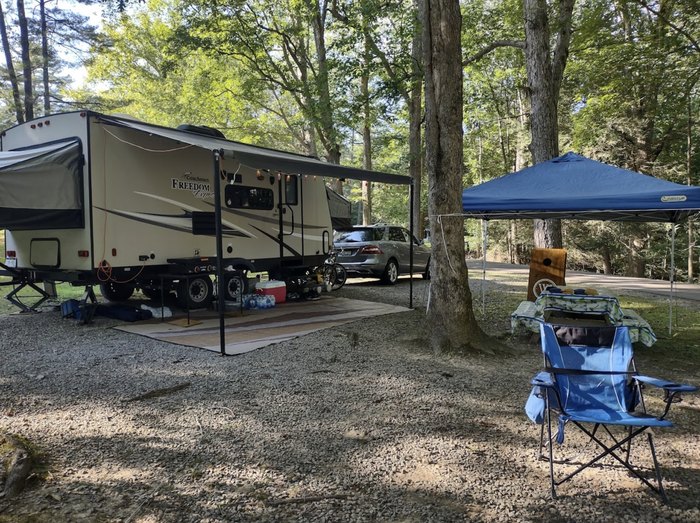 Best Beach Camping in West Virginia
Experience the best waterfront camping West Virginia has to offer. From serene lakeshores to winding rivers, the state boasts a range of picturesque camping destinations right by the water.
Top Glamping in West Virginia
West Virginia's finest glamping destinations are designed to offer cozy accommodations in the most stunning natural settings, letting you fully immerse yourself in the great outdoors while relishing the comforts of a well-appointed retreat. Whether you're dreaming of a secluded mountain escape, a riverside oasis, or a cozy forest hideaway, West Virginia's top glamping spots are here on this list.
Best RV Camping Sites in West Virginia
West Virginia is a hidden gem for RV campers, offering stunning scenery, outdoor activities, and a variety of top-notch campgrounds. Whether you're looking for a peaceful retreat in the mountains or a fun-filled adventure on the water, there's something for everyone in the Mountain State. Whether you're an RV owner or opt to rent one through services like RVShare, these RV campgrounds undeniably enhance the camping adventure.
Best Primitive Tent Camping in West Virginia
With its rugged terrain, lush forests, and scenic waterways, the state boasts numerous hidden gems for those seeking a more rustic adventure. Whether it's camping along the banks of a pristine mountain stream, nestled deep within the wilderness, or beneath the canopy of trees, West Virginia's primitive campgrounds provide a serene escape from the hustle and bustle of modern life.
Have you been to any of these camping spots in West Virginia? Do you think they are the best places to camp in West Virginia? We'd love to hear from you!
Whether you're looking for lakeside RV parks with access to amenities like hot showers or you're looking for a remote campground with mountain views, this hub has everything you need to know about camping in West Virginia! And, if you're planning to check out the trails, don't forget to check out our ultimate hiking packing list!
OnlyInYourState may earn compensation through affiliate links in this article.
More to Explore
Best Camping In West Virginia
What are the most popular state parks in West Virginia?
The most popular state parks in West Virginia are:
Canaan Valley in Blackwater Falls State Park
Holly River State Park
Bluestone State Park
Coopers Rock State Forest
What time of year is best for camping in West Virginia?
The main camping season in West Virginia typically runs from April to October since many campgrounds shut down during the winter months.
Where can I find family-friendly campgrounds in West Virginia?
The best family-friendly campgrounds in West Virginia are:
Big Bend Campground
Five River Campgrounds
Mash Fork Campground
Greenbrier River Campground, Cabins, and River Trips
Related Articles
Explore West Virginia
Featured Addresses