When And Where To Expect Washington's Fall Foliage To Peak This Year
There are two types of Washingtonians: those who dread the end of summer and those who have been ready for changing leaves, pumpkin patches, and sweaters since late July. But whether you're "team sunshine" or "team autumn," we can all agree that the fall foliage in Washington is nothing short of spectacular.
After dry or hot summers, fall foliage here in Washington is especially vibrant, and when you start to see it depends on the part of Washington you call home. (You can view the Smokey Mountains Fall Foliage Prediction Map here.) But for the most part, you can count on the month of October being peak viewing time. Starting in early October, these spots will be especially amazing for enjoying the colors.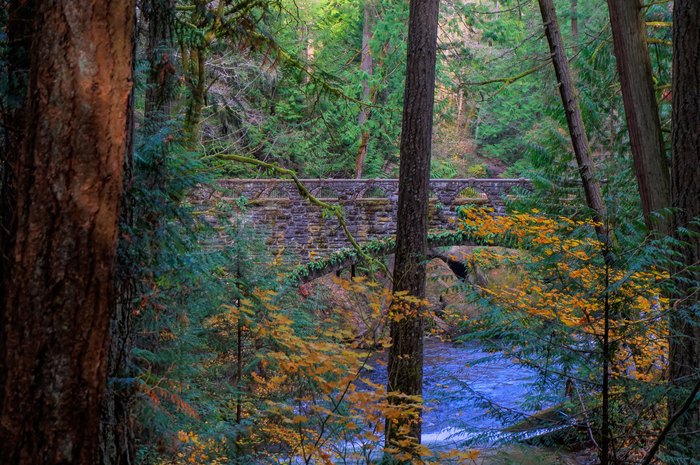 Do you miss summer already, or are you excited for fall? Where's your favorite place to experience peak fall foliage in Washington? Share it with us in the comments below!
For more fall fun in the Evergreen State, definitely check out this fishy festival! And let us know what you think in the comments below!
Address: Whatcom Falls Park, 1401 Electric Ave, Bellingham, WA 98229, USA
Address: North Cascades Scenic Highway, North Cascades Scenic Hwy, Washington 98862, USA
Address: Methow Valley, WA, USA
Address: Mount Rainier National Park, Washington, USA
Peak Fall Foliage In Washington State
September 09, 2022
What kind of trees have leaves that change color in Washington state?
Many trees change color in the autumn, but perhaps one of the most spectacular is the Vine Maple. This gorgeous tree is found all across the Pacific Northwest and changes from a glossy green to orange-scarlet or yellow. It looks like the trees burst into flame when the weather begins to cool each autumn season. Ash and aspen also change into brilliant colors every fall.
How long does autumn last in Washington state?
Washington state has all four seasons, and fall is one of the shorter ones. The colors begin to change as soon as late August and early September, but the best colors you'll see are from mid-September through mid-October. By late October many of the trees have already changed, and the leaves begin to fall. For long autumn drives in Western Washington state, consider the first half of October as prime leaf-peeping season.
What time does fall start in Seattle?
Lower elevations in Washington state can have a much longer fall season than in the mountains. Traditional the mountains and foothills will be around two weeks ahead of the lower levels of elevation, like along the coastline. Seattle can find autumn colors as early as the beginning of September, and they can last all the way through Thanksgiving.
Address: Whatcom Falls Park, 1401 Electric Ave, Bellingham, WA 98229, USA
Address: North Cascades Scenic Highway, North Cascades Scenic Hwy, Washington 98862, USA
Address: Methow Valley, WA, USA
Address: Mount Rainier National Park, Washington, USA