Best Hotels & Resorts in Washington: 12 Amazing Places to Stay
As local travel experts, we know what travelers are looking for when it comes to finding the perfect accommodations for their next trip. To compile our lists, we scour the internet to find properties with excellent ratings and reviews, desirable amenities, nearby attractions, and that something special that makes a destination worthy of traveling for.
Washington is undoubtedly one of the most magnificently beautiful states in the U.S. In addition to its illustrious natural scenery, the Evergreen state has some wonderful attributes that continue to captivate visitors year after year. There's the fresh seafood, the abundance of quality coffee shops, the diverse cultural heritage, the rich history, and so many opportunities for outdoor activities. Whether you're considering a trip to Washington, or you're a local who's looking for the perfect staycation getaway, these are the 12 best hotels we can recommend for your visit.
Best Unique Hotels to Stay in Washington
Washington is a state that's abundant in natural beauty and intriguing history, and there are many accommodations that can really enhance your experience with these qualities. Here are two hotels that do just that and offer more of a unique setting.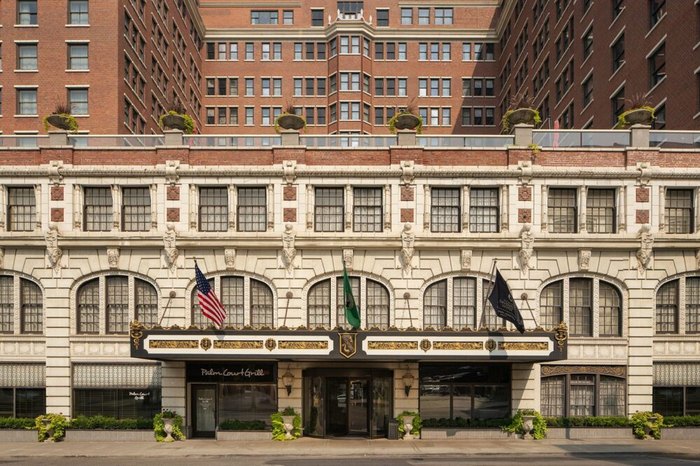 Located in Spokane, The Historic Davenport is an elegant hotel that's full of character and charm. From the moment you check-in, you'll be amazed by the attention to detail and art deco theming throughout the property. Guest rooms are elegant but comfortable, offering modern amenities in addition to plush Italian linens. This historic hotel offers an upscale bar and grill, a cocktail bar, a Sunday brunch, as well as an indoor pool and hot tub. You'll love exploring the hotel's unique and beautiful theming throughout your stay, and we're sure you'll love it so much that you will be excited to return in the future.
Situated near Joseph Whidbey State Park, The Capt Whidbey Inn is the perfect spot to enjoy some of Washington's extraordinary natural scenery while also staying in a rustic-chic hotel. Built in 1907, the Inn features original timber walls, while the wood-paneled guest rooms offer stylish decor and free wifi. These rooms provide shared restrooms, so you may consider upgrading to a lagoon-view room if you're looking for an ensuite bathroom. Guests will love the various outdoor activities that can be enjoyed here, as well as the refined American-style restaurant and tavern that's onsite.
Best Hotel Pools in Washington
When you think of the Pacific Northwest, snow-covered pine trees may come to mind. And while Washington is one of the most beautiful places to visit in the Winter, it's actually home to perfect Summer Weather as well. If you're visiting during a warmer time of year, consider one of these two hotels, which offer some of the best hotel pools in the state.
The Atla Crystal Resort is the perfect getaway for a visit to Washgington's Mount Rainier National Park. This rustic, woodsy lodge offers suites with flat-screen TVs, kitchenettes, and stone fireplaces, as well as stunning views throughout the property. The lodge offers resort guests bicycle rentals, snowshoe rentals, barbeque grills, and an outdoor swimming pool and hot tub. The pool is heated and surrounded by picturesque pine trees, making it the perfect spot to swim all year round.
Cle Elum is a popular spot for campers, and it's where you'll find the upscale Suncadia Resort. This chic mountain lodge-style hotel offers a variety of options for guest rooms: you can choose from a studio, a three-bedroom suite, or a unit in a sophisticated lodge. All accommodations include coffeemakers, private balconies, fireplaces, and even laundry facilities. The resort itself offers four different restaurants, three golf courses, a spa, and a winery for adults to enjoy. Suncadia's Swim and Fitness Center, however, is especially great. All year round, the outdoor pool is heated to 90 degrees, and the indoor pool offers two water slides, as well as lessons. This family-friendly area is one of the best hotel pools in Washington, as it's possible to enjoy all year round, like the previous hotel on this list!
Best Luxury Hotels in Washington
While Washington is certainly known for its wonderous natural beauty, you may prefer to stay in a more opulent setting as opposed to a modest cabin or mountain lodge accommodation. Whether it's a special occasion or you're ready to splurge, here are two luxury hotels in Washington that will amaze you.
Located within walking distance of Pike Place Market and the famous Space Needle, the Four Seasons Hotel is definitely a luxurious way to experience the city of Seattle. Chic, contemporary rooms offer some incredible panoramic views of the city and bay, and amenities include marble bathrooms, soaking tubs, free wifi, and minibars. Upgrades suites provide living room areas, but all guests can enjoy the rooftop bar and infinity pool, fitness center, a Pacific Northwestern-themed tavern/restaurant, as well as a spa and sauna. The Four Seasons Hotel Seattle is definitely one of the nicest places you can stay during your visit to Washington state, especially if you want to primarily explore Seattle.
The W Bellevue is an upscale hotel located near the Bellevue Arts Museum that overlooks Lake Washington. Chic guest rooms offer modern amenities in addition to glass-enclosed bathrooms, and you can upgrade to a suite that includes window seats, as well as more space. This bright and stylish hotel offers a trendy restaurant, two cocktail bars, a library, a fitness center, and an inviting lounge with a terrace. There are many great dining options near this hotel, and keep in mind that kids can stay for free!
Best Boutique Hotels in Washington
A stay at a boutique hotel is often a very memorable experience, and it's something you should certainly consider for your visit to Washington. As opposed to staying at a Hyatt or Marriott (while these hotels are also very nice), boutique hotels tend to offer more of a unique concept that is showcased through distinct style and charm. We think that these two boutique hotels are perfect for a visit to the Evergreen state.
In Seattle, the Kimpton Palladian Hotel offers a charming getaway that is both vintage-inspired and modern. Upscale rooms feature decor that is fun, stylish, and also comfortable, offering modern amenities in addition to in-room yoga mats, Italian linens, and soaking tubs. The Kimpton Hotel has some amazing views of Puget Sound, as well as a cocktail bar, seafood restaurant, fitness center, and a free afternoon wine hour. Guests can also enjoy loaner bikes, which is a great way to explore the city. And if you're an IHG member, be sure to ask about the extra perks available to you at this accommodation!
The Inn at the Market is another boutique hotel in downtown Seattle that's amazing for several reasons. For one, it's located right in Pike's Place Market, so you'll be staying directly in one of the most iconic places in the city. Each hotel room offers modern amenities in addition to floor-to-ceiling windows, so guests can enjoy some really incredible views during their stay. In-room massages are also available if self-care is a priority for you during your trip. The hotel offers a sushi restaurant, a French restaurant, and a Korean restaurant, as well as a cafe where breakfast is available throughout the day. Guests love the furnished rooftop deck, as well as all the activities of Pike's Place that surround the hotel.
Best Resorts in Washington
Washington state is the kind of place that has no shortage of wonderous features- from the great National Parks to the iconic landmarks and unique cultural heritage of the state, you'll be amazed and inspired by this region of the Pacific Northwest. Here are four of the best resorts overall for a visit to the Evergreen State.
The Fairmont Olympic Hotel is a landmark building that dates back to the 1920s and features gorgeous Italian Renaissance-style architecture. Guests love the attention to detail and theming throughout the property, which extends to the elegant guest rooms. All units include modern amenities, while suites offer floor-to-ceiling windows, grand pianos, and canopy beds. Room service is available to all guests. The hotel is home to an upscale restaurant that offers French-inspired local cuisine, as well as an oyster bar in a stylish, rustic setting. You'll love this gorgeous and historic accommodation for all that it offers guests-both inside and outside in the surrounding area.
Taking inspiration from Murano glass art, this four-star hotel is a contemporary getaway that's perfect for a visit to Tacoma. Hotel Murano offers contemporary guest rooms that include basic amenities, and suites include access to a deluxe lounge area that provides complimentary breakfast. The hotel's restaurant features local ingredients, and the lobby bar features a cocktail menu and refreshments. There's also a spa and salon area, and glass art is showcased throughout the property.
Located in Snoqualmie and overlooking the falls, this opulent lodge may be the ultimate Washington getaway experience. Elegant guest rooms of the Salish Lodge feature a sophisticated, woodsy style, with comfortable modern amenities that include whirlpool tubs and patio areas or window seats. The resort fee covers the use of the fitness center and valet parking, as well as complimentary tea and coffee in the mornings and tea and cookies later in the afternoon. The lodge features two upscale restaurants, one of which offers local fare, as well as a full-service spa. The lawn and garden area is perfect for stepping outside and enjoying the outdoors, but be sure to ask the concierge about the Northwest Railway Museum, which is close by.
Last but certainly not least, we have the Edgewater Hotel in Seattle-the city's only hotel over water. This accommodation is unmatched when it comes to its location and atmosphere. Guest rooms include modern amenities, as well as rock fireplaces and balconies with amazing views. It is also home to an upscale restaurant that offers award-winning Pacific Northwestern dishes, as well as a bar/lounge and fitness center. Aside from these great features, however, this hotel is actually known for its unique history. Originally built in the 1960s for The World's Fair, the property later when on. to host some of the biggest names in Rock and Roll history, including Led Zepplin and the Beatles. The Edgewater also has daily events and excursions that include sightseeing and culinary expeditions. This hotel is the kind of stay that a visitor or a local would enjoy for any occasion!
Are you planning a trip to the great state of Washington? This list really has some great options that are located throughout the state, and we think any of these 12 spots will be a memorable destination. Let us know in the comments if you've been to any of these hotels, or if there are any you'd add to this list!
OnlyInYourState may earn compensation through affiliate links in this article.
Best Hotels & Resorts in Washington: 12 Amazing Places to Stay
March 09, 2023
What are the best hotels for couples in Washington?
Some of the best hotels for couples in Washington are:
River Run Inn, Winthrop
Olympic Lodge by Ayres, Port Angeles
Hotel Ballard, Seattle
What are the best kid-friendly hotels for families in Washington?
Some of the best kid-friendly hotels for families in Washington are:
What are some historic hotels in Washington?
Some historic hotels in Washington are:
Orcas Hotel, Orcas
The Bellmont, Port Townsend
Maitland Manor, Port Angeles