Here Are The 5 Richest Counties In Virginia
Virginia has long been ranked among the wealthiest states in the nation. An overall stable economy, relatively low unemployment rates, and an abundance of government jobs help keep residents of the Commonwealth among the highest earners in America.
But when determining the wealthiest individual areas in Virginia, things can get a bit complicated as there are many ways to run the numbers. One common method is to analyze census data. Currently, the most recent census data is from 2020. A number of organizations have calculated wealth based on estimates from this data – but the numbers are assigned by county, and even then can vary greatly depending on whether or not they represent median household income or median family income.
For this list, we are reporting on Forbes' list of the top 10 wealthiest counties in the nation based on median household income in 2021 (as it's the most recently available information based on the 2020 census). It's interesting to note that Virginia has half of the top national earners jam-packed into our little state alone!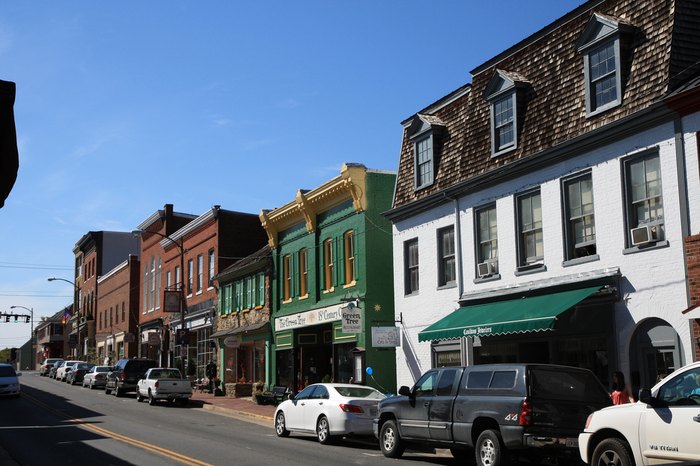 What do you think of the numbers? Do you live in one of the richest counties in VA? Do you think it's fair to have it on the list? Tell us your thoughts in the comments – we love hearing from you! You can also visit the Forbes article, reporting the richest counties in the U.S.
For more of the most interesting places in Virginia, you might want to check out one dozen of the most charming towns in VA.
OnlyInYourState may earn compensation through affiliate links in this article.
Richest Counties in VA
December 30, 2022
What are the richest counties in VA? 

 
Interestingly, of the 15 wealthiest counties in the United States, five of them – so one-third – are in Virginia. The wealthiest counties in VA per capita as of the 2020 census are:  
Loudoun County, median household income is $142,299

 
Falls Church City, median household income is $127,610

 

Fairfax County, median household income is $124,831

 

Arlington County, median household income is $120,071

 
2. What are the poorest counties in VA?  
Unfortunately, every state in the U.S. comes with its poorest cities and counties; the poorest counties in VA are counties like:  
Dickenson County, median household income is $16,278

 

Radford City, median household income is $16,496

 

Lee County, median household income is $16,513

 

Sussex County, median household income is $16,735

 
3. What is living in VA like? 
Living in Virginia is lovely, especially if you're a fan of the great outdoors. There are plenty of amazing things to do, see, and experience in Virginia, and some of the most important places for anyone living in VA to visit are:  
The delightful small towns, like Floyd, Salem, or Rocky Mount

 

 

Beautiful river towns, like Buchanan, Scottsville, and Pulaski

 

 

... and every single one of our 22 reasons Virginia is for lovers!