As one of the oldest states in the US, Virginia's charm is rooted in its many quintessential small towns that are rich in culture as well as natural splendor. Of course, this makes Virginia the perfect destination for a small-town getaway in the United States. Whether you're a history buff or an outdoor enthusiast seeking your next excursion, a small-town escape in the Old Dominion belongs at the top of your list. Much to your delight, I've found the perfect town that will entice the adventurous traveler in you. As Virginia's only lakeside community, Clarksville is a must-visit haven, offering attractions for all types of vacationers. Teeming with historical sites, specialty boutiques, family-owned restaurants, as well as a plethora of outdoor activities, there are lots of things to do in Clarksville.
Nestled on the banks of the vast Lake Kerr, this small-town destination is recognized as a slice of heaven for outdoor enthusiasts. So, if you're seeking to spend time in the great outdoors or you simply want to bask in a relaxing weekend, make Clarksville your next small-town getaway in the United States. Pack your bags, flip on your vacation mode, and let's embark upon one unforgettable two-day weekend in this charming and oh-so-delightful Virginia small town.
Do you love visiting and learning all about America's small towns? Take our interactive quiz to discover which Small Town Getaway you should take this year.

Is Clarksville Worth Visiting?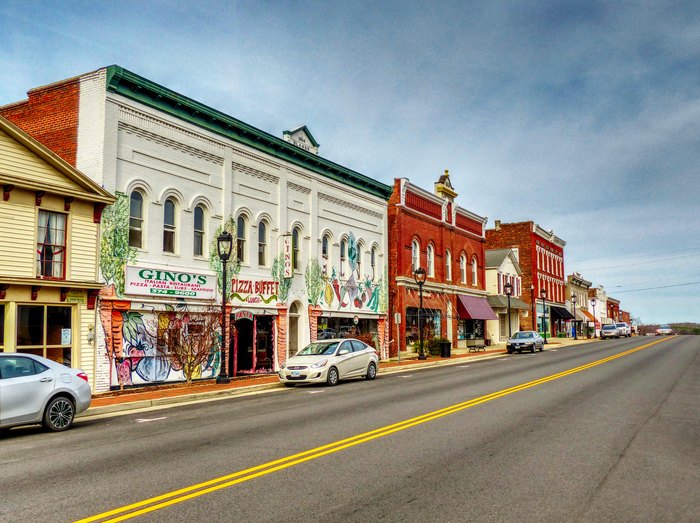 How To Get To Clarksville?
Getting Around Clarksville
Best Time To Visit Clarksville
Where To Stay In Clarksville?
Day One, Morning – Breakfast, Shopping, And Outdoor Recreation
Day One, Afternoon – Historical Landmarks, Museum, And Winery
Day Two, Morning – Local Gems, Exploring, And Golfing
Day Two, Afternoon – Hiking, Exploring, And Brewery
Charming and undeniably beautiful, Clarksville is one of the best destinations for a small-town getaway in the United States. This gorgeous lakefront town with its stunning architecture, charming shops, family-owned restaurants, as well as its historical landmarks, represents a quintessential small town in Virginia. From its laid-back vibes to the abundance of outdoor excursions, this delightful town has something for every vacationer.
As a paradise for outdoor enthusiasts, Clarksville is great during the warmer months, but the town is worth visiting throughout the year. So, the next time you're searching for a getaway in Virginia, consider a day trip to Clarksville or perhaps make it a weeklong adventure. There's no doubt that it will be one unforgettable vacation!
OnlyInYourState may earn compensation through affiliate links in this article. As an Amazon Associate, we earn from qualifying purchases.
More to Explore
THINGS TO DO IN CLARKSVILLE VIRGINIA & RELATED INFO
What are some more things to do in Clarksville, Virginia?
There are ample opportunities to explore in Clarksville Virginia. Whether you're seeking outdoor fun, historical sites, shopping, dining, and more, the possibilities are endless. Here are some more things to do in Clarksville that we recommend:
Clarksville Bridge Lights & Nighttime Fishing Venue
Bluestone Wildlife Management Area
The Cottage Barn LLC - a charming ice cream shop in the heart of downtown
Urban Slide - a touring 1,000ft water slide hosted in August that will be lots of fun for the entire family
Merifield Wildlife Management Area
Longwood Park - a county park offering camping, picnic tables, water recreation, and more.
Old Soudan Wildlife Management Area
Prestwould Plantation - historical landmark and gardens
Little Lake Farmery - local farm with barnyard friends. If you're traveling with kids, this would be the perfect adventure for them.
Related Articles
Featured Addresses

Clarksville, VA 23927, USA