Nestled In The Virginia Mountains, Lake Moomaw Has Some Of The Clearest Water In Virginia
There's a little-known lake nestled in the Appalachian Mountains of western Virginia and it promises to delight. Lake Moomaw offers miles and miles of hiking trails, picturesque campsites, and even boat ramps, but the real draw is the water itself. This pristine mountain lake is perfect for swimming or sunbathing, whichever you prefer. When you visit, you'll discover that this beautiful body of water has some of the clearest water in Virginia. Here's more on what you can expect from your visit to Lake Moomaw, the clearest lake in Virginia.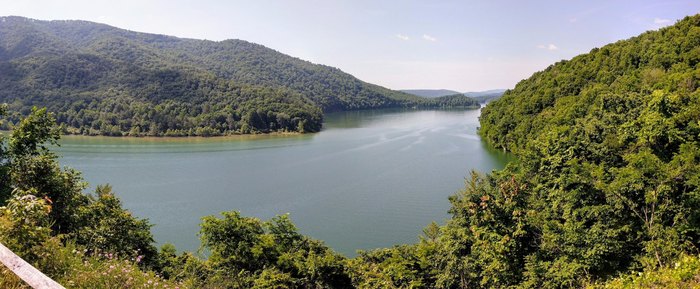 Have you ever visited Lake Moomaw and spent time enjoying the clearest lake in Virginia? We'd love to hear about your experience there. If you're in the area, you might also consider visiting the beautiful beach and waterfalls at Douthat State Park. There's so much to do in this corner of Virginia!
Address: Lake Moomaw, Virginia, USA
clearest lake in Virginia
May 27, 2021
Where else can I go swimming in Virginia?
When the temperatures rise in Virginia, there are few things as refreshing as jumping into a natural swimming hole. And as you learned in the article above, Virginia boasts all kinds of swimming beaches like the one you'll find at Lake Moomaw. Some other destinations that belong on your radar include Cascade Falls in Pembroke, Belle Isle in Richmond, White Oka Canyon Trail in Syria, Big Falls on the Cedar River in Russell County, Falls of Dismal in Bland, Devil's Bathtub in Fort Blackmore, Nottoway Falls in Victoria, Goshen Pass in Lexington, Pony Pasture in Richmond, Blue Hole on the Dry River in Rawley Springs, Dunlap Creek at Humpback Bridge in Covington, and Whitetop Laurel Creek along the Virginia Creeper Trail near Damascus.
What are the most beautiful places in Virginia?
Virginia has no shortage of natural beauty. For proof of this, look no further than any of the following under-the-radar destinations: False Cape State Park in Virginia Beach, Carvins Cove in Roanoke, Prince William Forest Park, Alum Springs Park in Fredericksburg, Falling Springs Falls in Covington, and the Great Dismal Swamp in Suffolk. However, the single most beautiful place in the entire state might just be Shenandoah National Park. This expansive area filled with mountains, waterfalls, craggy hikes, and beautiful forests, is known the world over for its pristine natural beauty.
Does Virginia have any non-ocean beaches?
We're lucky to have the Atlantic Ocean right in our very own backyard here in Virginia, but you don't have to travel all the way to the coast to enjoy some time at the beach. Some non-ocean destinations that are worth exploring include Chick's Beach, Grandview Nature Preserve, Outlook Beach, Yorktown Beach, and of course, the beach at Lake Moomaw. You can learn more about these fantastic day trip destinations in Virginia.
Address: Lake Moomaw, Virginia, USA