These 10 Urban Legends In Vermont Will Keep You Awake At Night
Vermont has its share of history and legends, but these stories have been told time and time again and the locals swear that they are true.  Ghosts, noises, and peculiar happenings are afoot in these 10 places that have stories which will leave you terrified.  Are you brave enough to explore these Vermont urban legends?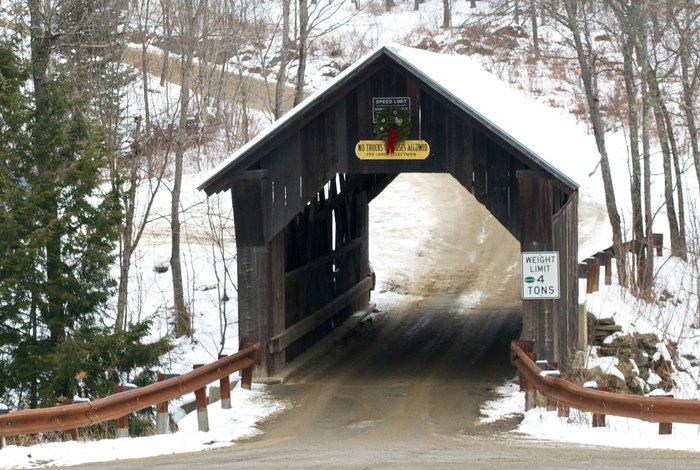 What do you think of these Vermont ghost stories? Tell us about other haunts you know of in Vermont!  What are things you want to see?  Please tell us in the comments and be sure to share these with your friends who love a good ghost story.
OnlyInYourState may earn compensation through affiliate links in this article.
Address: Gold Brook Covered Bridge, Covered Bridge Rd, Stowe, VT 05672, USA
Address: VT-14, Albany, VT, USA
Address: Golden Stage Inn, 399 Depot St, Proctorsville, VT 05153, USA
Address: Retreat Tower, Reservoir Loop, Brattleboro, VT 05301, USA
Address: 115 St Paul St, Burlington, VT 05401, USA
Address: Green Mountain Inn, 18 Main St, Stowe, VT 05672, USA
Address: Lake Bomoseen, Castleton, VT, USA
Address: Shelburne Museum, 6000 Shelburne Rd, Shelburne, VT 05482, USA
Address: Hartford, VT, USA
Address: Burlington, VT 05405, USA
Vermont urban legends
May 14, 2020
Can I visit any abandoned places in Vermont?
Yes, you can! But, it depends on the area and abandoned attraction you wish to visit. For instance, not all abandoned places in Vermont can be accessed in a safe and respectable way. For some places, it will not be safe for entering, but you can still get a chance to view some of these places from the outside. For other places, however, you will be able to enter and explore. We encourage you to check out this article here where you will learn about a scary road trip that will lead you to some pretty creepy and spooky abandoned places in Vermont. before visiting abandoned places, make sure you are being safe and responsible. Time to start exploring!
Are there other creepy and eerie towns in Vermont?
Yes, there are! Lewiston and Somerset are two small towns in Vermont that have a history for being eerie ghost towns. And perhaps the most well-known town in Vermont for having ghosts and spirits is Stowe. According to locals, several ghost stories have been told about this resort town in the Green Mountains. If you are seeking out more terrifying and abandoned places in Vermont, take a look at this article here of 17 scary places that will haunt your dreams. Explore at your own risk. Happy haunted adventures!
What are the scariest haunted attractions in Vermont?
Vermont has a plethora of fun and spooky haunted attractions to make a trip to, but to list some of the scariest, we recommend that you consider visiting the Eddy House in Chittendon. This home was owned by a mysterious and ghostly family who dealt in creepy and ghostly affairs. The Eddy House is now the location of the High Life Ski Club Lodge. Another haunted place in Vermont is The Quechee Inn at Marshland Farm. Many locals have claimed to be haunted by the former owner's ghosts throughout the estate. Enjoy the spooky adventures!