Posted in Utah
February 01, 2023
The Most Delicious Utah Road Trip Takes You To 7 Hole-In-The-Wall BBQ Restaurants
When you are craving juicy meats and tons of flavor, how do you choose which of the best BBQ restaurants in Utah to visit? It's not an easy choice and that's okay. We've created this delicious Utah road trip that will take you to seven of the best hole-in-the-wall barbecue restaurants. You better come hungry and bring plenty of wet wipes because this may just be one of the best road trips you take all year!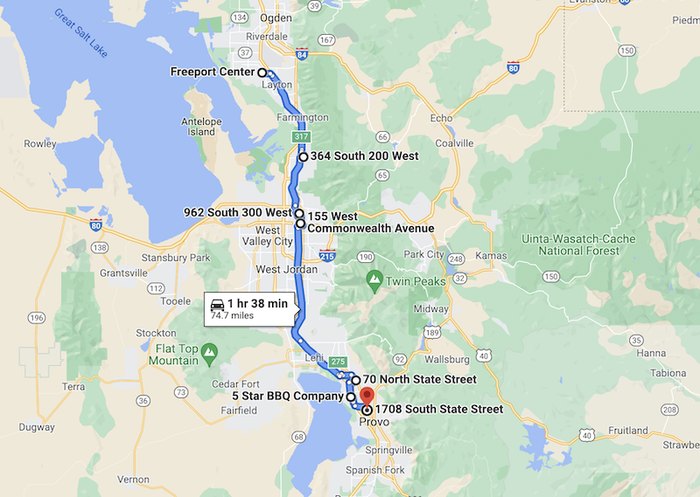 Is there a barbecue restaurant in Utah that you would add to this road trip? What do you think are some of the best Utah BBQ restaurants? Let us and your fellow travelers know in the comments! You may just see your suggestion in an upcoming Only In Your State article.
OnlyInYourState may earn compensation through affiliate links in this article.
Best BBQ Restaurants In Utah
February 06, 2023
What are some other BBQ restaurants in Salt Lake City I should check out?
Salt Lake City is an excellent destination for foodies. Here, you can find all types of tasty places to eat, including some delicious Utah BBQ restaurants. While several of these restaurants were mentioned in the article above, a few other BBQ restaurants in Salt Lake City you should check out include:
R&R BBQ
Pat's Barbecue
The SugarHouse Barbecue Company
Salt City Barbecue
What would you consider to be the best BBQ restaurants in Utah?
Choosing the best BBQ restaurant in Utah is impossible. There are so many delicious places to eat. However, there are several restaurants that we highly recommend and they include:
Smokin Bones BBQ, Bountiful
What are some other road trips in Utah that deserve a spot on my bucket list?
Utah is the ultimate destination when planning road trips. No matter where you are in the state, there are so many incredible destinations that you can check out. Here at Only In Your State, we love creating road trips and we have designed dozens of itineraries throughout the years. Some of our favorite road trips in Utah include:
However, if you do plan a road trip in Utah, make sure you check out our road trip essentials packing list. Featuring several items you don't want to be without on a long road trip, this is the ultimate guide to help you be prepared for anything you may encounter on your journey.