18 Abandoned Places In Utah That Nature Is Reclaiming
It's not uncommon to see old pioneer cabins, sheds, and outbuildings in rural Utah — they're even used to house animals or farming equipment. You'll even find abandoned stores, gas stations, hotels, and mills around the state as well. These places were all abandoned long ago and nature is starting to reclaim them. Take a look at the photographs of these abandoned places in Utah that were taken between 2007 and 2015 — some of these abandoned spots might be knocked down or otherwise destroyed today.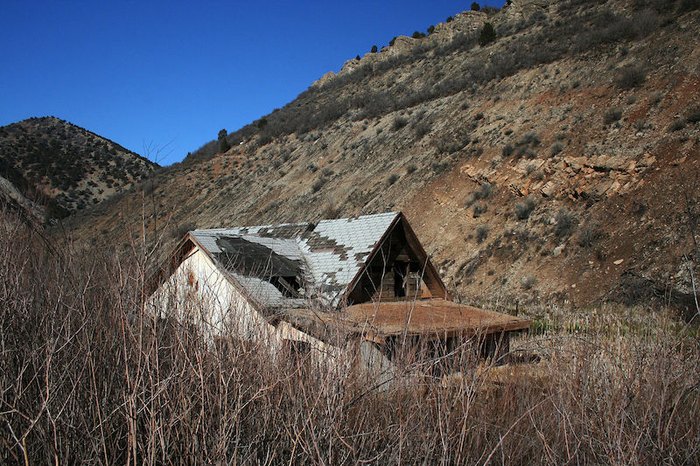 Are there any other abandoned spots you've seen being taken back by nature? What are some of your favorite abandoned places in Utah? Go ahead and share the locations and photos below!
If you love visiting abandoned places in Utah and you also love a good fright, head to Frisco, an eerie ghost town in Utah. This ghost town has quite an interesting history and may just send chills down your spine when you visit.
OnlyInYourState may earn compensation through affiliate links in this article.
Abandoned places in Utah
September 09, 2022
What are some abandoned buildings in Utah?
There are many abandoned buildings scattered throughout Utah. However, one of the more popular and well-known is found at the mouth of Big Cottonwood Canyon. In Cottonwood Heights, you will find the Cottonwood Paper Mill. This building was constructed in the 1880s by the Desert News Corporation and was used for publishing the well-known newspaper. Unfortunately, the mill caught fire on April 1, 1893. Many people thought it was an April Fools' joke and significant damage was done to the mill before the fire was finally put out. Following the incident, the mill sat abandoned for quite some time. Many different people and organizations tried to renovate the building but were never successful. In 2005, the building was officially condemned and the public is no longer allowed on the property.
Are there ghost towns in Utah I should visit?
Yes! There are ghost towns all across the state that are certainly worth exploring. In fact, we created a ghost town road trip that takes you to numerous ghost towns in the southern part of the state. However, if you plan to tackle this trip, give yourself plenty of time and multiple days to complete your journey. Our trip takes you nearly 800 miles and requires just under 15 hours of drive time. However, you will head to some incredible abandoned places and ghost towns in Utah like Sulpherdale, Widtsoe, and Modena, making the trip worthwhile.