Posted in USA
October 19, 2016
These 7 Haunted Houses Across America Are So Terrifying You Have To Sign A Waiver To Enter
Countless haunted houses and spooky attractions claim to be the scariest around…but these seven places actually make you sign a waiver before stepping inside. They are that terrifying.
These spots range from massive, Victorian mansions with a history of murder and death, to twisted mazes of gore and darkness. Check out these spooky spots across the nation that require that you legally consent to having the fright of your life before you're allowed to step foot within their walls.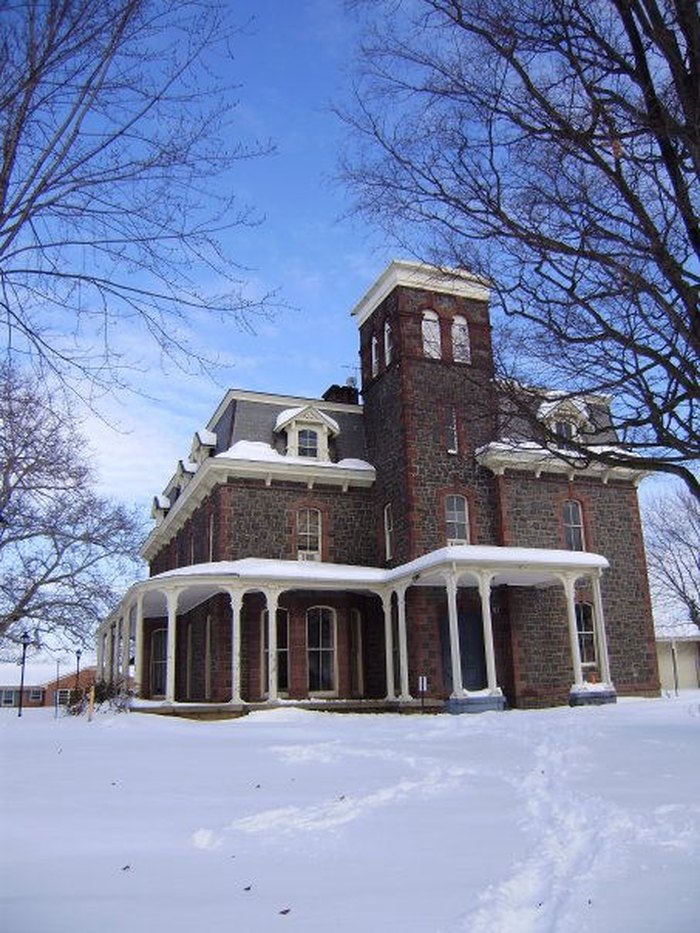 This Virginia manor stages one of the creepiest haunted productions in the country, and you have to legally consent to being scared out of your wits here.
Paxton Manor was built in 1872 by Charles Paxton. It's over 20,000-square-feet large, and on the National Register of Historic places. A few times a year, the manor opens its doors to thrill-seekers and spook lovers for self-guided haunted tours. The fall "Shocktober" event allows guests to wander through the dark hallways and 30 rooms of this mansion as creepy dolls, clowns and other twisted characters leap out from the shadows.
The tours take place on Friday, Saturday and Sunday evenings through October. All the profits made from the tours go directly to the Margaret Paxton Memorial Learning and Resource Center non profit. Check out their website for tickets and information.
This massive Victorian mansion has a history of haunting that dates back almost 130 years. And the new owners aren't taking any chances.
The SK Pierce mansion in Gardner was built in the late 1880s by wealthy local businessman Sylvester Pierce. It has 10 bedrooms, a full servant wing and is almost 7,000-square-feet. In 2015, the house went on the market for a mere $329,000, which is unbelievably low for such a grand estate in Massachusetts. However, the owners desperately wanted to be rid of the mansion. All the paranormal activity had made it impossible for them to even sleep in their own home.
Almost all members of the Pierce family died under tragic circumstances in the home. It was later turned into a boarding house, where one man was strangled to death, and another mysteriously burned to death in his own bed. There was almost no damage to anything in the room other than the body.
The reported hauntings at this estate are truly chilling. The ghosts here are known to get physical, with visitors reporting the pressure of hands on their body, feeling as if something is urging them to throw themselves down the stairs, and even feeling as if they are being forced toward open windows.
The property has since been turned into a haunted attraction, and the attraction's website provides the following statement: "The entities in this mansion are extremely advanced and have demonstrated a unique ability to impose their will "physically" on guests. For this reason, a detailed injury waiver must be signed by each guest prior to experiencing "the SK Haunted Victorian Mansion." Please do not behave in an antagonistic manner towards these entities at any time, as you may be placing yourself and other guests in danger."
Check out the website for details about visiting.
You know a haunted house is terrifying when over 65 percent of visitors don't make it all the way through.
The NM Slaughterhouse is located in Albuquerque, New Mexico. Though it's not staged in a historic haunted house, this attraction is so scary that 195 "victims" once forfeited in a single night.
Before entering the attraction, you must agree to have a message stamped on your hand. It reads: "I understand I am entering at my own risk and assume all responsibilities. I have read all rules and warnings before purchasing tickets or entering this attraction." People with mental or physical health conditions are advised not to attempt to make it through the Slaughterhouse.
The story is that of a young girl named Nina. She is trapped within the house with her mentally unstable parents, and the rest of her siblings. Her brothers and sisters have been severely affected by mistreatment, and are hiding within the house. Oh, and they're cannibals. And hungry.
During the experience, you'll have to shimmy between walls, climb through vents and face booby traps in order to escape. The production team involves more than 100 people, and the actors are absolutely convincing. If things get too intense, you'll have to say the safe word to forfeit. So don't forget it.
The attraction is open through October. Reserve your tickets in advance, as they tend to sell out fast.
This Denver haunted attraction will take your fear of the dark to the next level.
Step inside the "Blackout" area at this haunted house, and you'll be plunged into total darkness. Your group will get one glowstick to navigate with (note: it's one glowstick per group, not per person) and you'll be tasked with finding your way out of the 13th Floor. All participants have to sign a waiver of liability before entering the attraction.
There's no path to follow, and a horde of monsters and demonic creatures are roaming in the dark right beside you. The actors have night vision technology, which lets them see exactly where you are…but you won't be able to see them unless they wander into the light of your glowstick.
What's even more horrifying? It's not uncommon for participants to get lost, separated from their groups, or have their glowsticks snatched by the evil creatures on the 13th Floor.
Check out their website for upcoming dates and times. Seriously, watch the video above to get an idea of how scary the 13th Floor really is.
This haunted inn has a history of paranormal activity that is so intense, a former innkeeper once demanded that guests sign a waiver before staying in one particular room. To this day, there are no refunds for visitors who check out early due to haunted happenings.
The resident ghost at this historic establishment is supposedly that of Anna Powers. She is said to have thrown herself out of the window of room 204 while the inn was still a boarding house, reportedly after suffering a broken heart. Since then, guests attempting to get a night's rest in room 204 have been subjected to all manner of spooky occurrences. Some report glass objects spontaneously shattering, a shadowy figure looming over the bed and even the feeling of cold fingers on their faces.
Today, brave guests can book a night in room 204 at the 17hundred90 Inn & Restaurant website.
This hotel is supposedly one of the most haunted places on the East Coast. It has a history that is so filled with tragedy, it's no wonder that you need to sign a liability waiver before checking in.
The hotel was built in 1895 by James Shanley…after the hotel that had previously stood on the land mysteriously burned down. Since then, the employees, guests and owners of the property have all faced misfortune. In 1911, the three-year-old daughter of the hotel's live-in barber fell down a well and died. Shanley's sister died suddenly on the second floor of the hotel, while his brother died only a year later.
The Shanley became a popular spot during the 1920s. The second floor was turned into a bordello, and bootleg liquor flowed freely at the hotel. The spirit of Anna, a popular girl at the bordello, is said to haunt her old room. Rumors of murders, suicides, and violence during this time abound.
Today, guests can book a room at the Shanley if they are willing to sign a waiver. The hotel also offers ghost tours. For more information, check out the Shanley Hotel website.
At 25,000-square-feet, this New Orleans haunted attraction is one of the largest in the country. And unlike most haunted houses, the actors here can actually physically touch you.
The 350 staff members at House of Shock will make sure you have one of the scariest nights of your life – after you agree to a waiver of consent. The waiver is new for 2016, and states that you agree to allow the actors within the haunted house grab, prod and otherwise scare the wits out of you.
There are three different experiences that you can subject yourself to at this attraction. They all incorporate the creepiest elements of New Orleans history and lore. The new entrance to the attraction has been designed to resurrect the lobby of the Le Beau Mansion, which burned to the ground in 2013.
There are also plenty of dramatic pyrotechnics that will truly make your experience here one to remember. Check out their website for tour availability and tickets.
OnlyInYourState may earn compensation through affiliate links in this article.