Relax In A Tropical Wonderland At The Biggest Freshwater Swimming Pool In Texas
We all know how unbearably hot the west Texas desert can be, so having a place to cool off during the hottest months of the year is crucial. Balmorhea State Park is one such destination. Not only is it home to the largest freshwater swimming pool in Texas – it's also the largest freshwater swimming pool in the United States! Spring-fed and pristine as can be, this hidden oasis is the pinnacle of fun in the sun.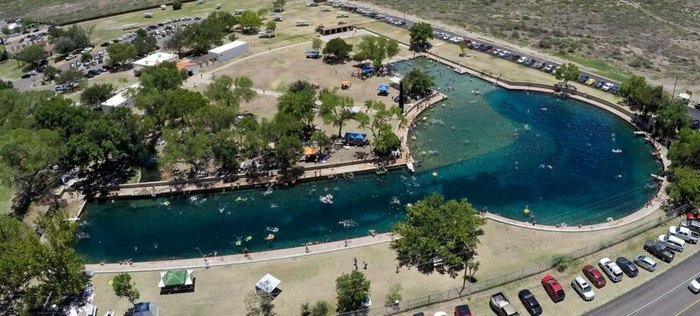 For the most up-to-date information on park hours, closures, permits, and more visit the park's website or Facebook page to learn more.
Have you ever been to Balmorhea State Park? Let us know, and check out our previous article for a place you can go swimming, too: The Largest Crystal-Clear Lagoon In Texas Is Officially Open To The Public.
Address: Balmorhea State Park, 9207 TX-17, Toyahvale, TX 79786, USA
Freshwater Swimming Pool in Texas
June 06, 2021
Where are some popular places to swim in Texas?
Texas is a gigantic state with hundreds of gems sprinkled all over, like confetti on a birthday cake (and usually just as sweet!). However, there are some specific swimming areas that are definitely favored by the crowds of locals and visitors alike. For example, some of the most popular swimming spots include awe-inspiring places like the Barton Springs pool near Austin, a beautiful spring-fed pool where you can take a dip in delightfully chilly water year-round. There's also Jacob's Well, for the more daring among us, which is a deep, dark blue hole that serves as the entrance to Texas's lengthiest underwater cave system. For more of our favorite Texas swim spots, check this article out!
Are there any hidden swimming holes in Texas?
Absolutely! Of the hundreds of swimming holes all over the Lone Star State, many of them are well-hidden gems just waiting for the right adventurers to seek them out. Some of the local favorites, in terms of swim spots, go tremendously underappreciated (but maybe that's what we love about them). Some of the lesser-known swimming jewels in Texas include several natural lakes and springs hidden around in Angelina National Forest, which you'll have to scope out to enjoy. There are also beautiful places like the "Come And Take It" swimming hole, which has some historic significance as the birthplace of Texan independence, and the Devil's River Natural Area is also quite special.
What are the best summer destinations in Texas?
People often overlook Texas as a summer vacation destination, but they're really missing out when they do. You can take your pick from delightful theme parks to incredible cave adventures and everything in-between. Some of the most popular destinations in Texas include the arts and entertainment district of Deep Ellum, in Dallas, and the fun-filled theme parks in places like Six Flags Over Texas, also in Dallas. Of course, the other big cities like Austin and San Antonio are also hubs of activity. No matter what your interests are, you're bound to find something to love in the Lone Star State!
Address: Balmorhea State Park, 9207 TX-17, Toyahvale, TX 79786, USA