The Best Times And Places To View Fall Foliage In Texas
Fall is almost upon us, and while we may not see much in the way of temperature change here in Texas, the leaves definitely obey the unsaid rules of the season and change into some of the most vibrant, breathtaking colors you've ever seen. In our opinion? Autumn in Texas is completely, wildly underrated. We aren't just a series of deserts and plains, y'all!
This state is stunningly lush and can be outrageously beautiful. It's a true gem: one of the best places to visit if you're looking for a bit of southwestern spice alongside your autumn color. This Smoky Mountains fall foliage map makes it easy for you to figure out when and where to head to Texas. Normally, the best time to view fall foliage in our state will be around early to mid-October, but that varies slightly depending on the region and the year. Take a look at the Texas fall colors map, plan your trip, and figure out when to see fall colors in the Lone Star State this season.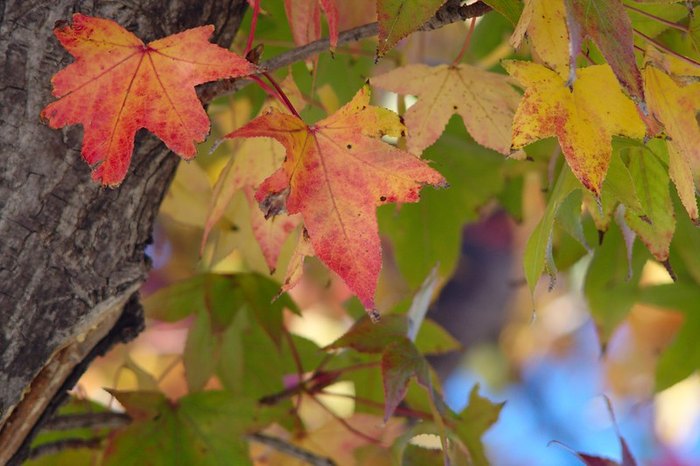 Will you be visiting Texas this year? Have you found the best state parks to visit, hike through, or fall in love with during the beautiful months of autumn? Let us know in the comments!
Don't miss out on the opportunity to indulge in the autumnal beauty of Texas this year, folks. This fall colors map for Texas is a great roadmap for your autumn adventure in the Lone Star State!
Keep in mind that some of these places are on this fall foliage road trip in Texas. Maybe you'll consider adding the rest, too.
OnlyInYourState may earn compensation through affiliate links in this article.
Fall Colors Map for Texas
September 14, 2022
What is there to do in Texas in the fall?
While the Lone Star State's summers are amazing, after months of heat and humidity, we're always happy for the arrival of fall in Texas. Autumn is a great time to go camping in Texas, especially in spots like the Big Bend National Park. You can also visit a fall festival, perhaps head to Barton Hill Farms for the day, or experience the stunning Texas fall foliage at Lost Maples State Natural Area. Autumn is Renaissance Festival season, and there should be no missing fun football games in the crisp fall air.
Where can I see the best fall foliage in Texas?
There's great fall foliage viewing all over Texas, but we would recommend visiting both state and national parks for the most intense viewing. Lost Maples State Natural Area, Daingerfield State Park, and Garner State Park tend to be some of the most popular. 
Why should I visit Texas in the fall?
The weather in Texas is arguably the best during the autumn season and it's also when and where folks who are looking for beautiful hiking opportunities and temperate camping should indulge. Texas is a cost-effective place to vacation, and you'll be hard-pressed to find kinder people. It's a true gem, made even more beautiful by way of a natural explosion of fall colors.