One of the Most Scenic Drives In America Is Right Here In Texas
There are so many beautiful places to see the Texas state flower in bloom every year, but perhaps a visit to the Official Texas Bluebonnet Trail is best. You'll have to travel to a little city south of Dallas, Ennis, which is itself called the Official Bluebonnet City of Texas, earning this distinction in 1997. However, we guarantee that when you visit during the right time of year, the most scenic drive in Texas will certainly be a welcome experience.
The Texas Bluebonnet wildflowers shine brightest when they are in full bloom, which takes place beginning in March and often ending around May. The best time to go explore for yourself is during the month of April when the town of Ennis celebrates its claim to fame. Trails offer over 40 miles of majestic Texas countryside, covered in a blue blanket of wildflowers. According to the Ennis Garden Club, the bluebonnets are most impressive in the third week of April, but again you should check with the town's resources each year you visit for more current information.
Join the tens of thousands of visitors who flock to the trails every year to see the fields. When you're in town, check the Ennis Convention and Visitors Bureau for updates on where to find the best flowers at that time, according to the Ennis Garden Club. Before your trip, check the Ennis Convention and Visitors Bureau website for updates.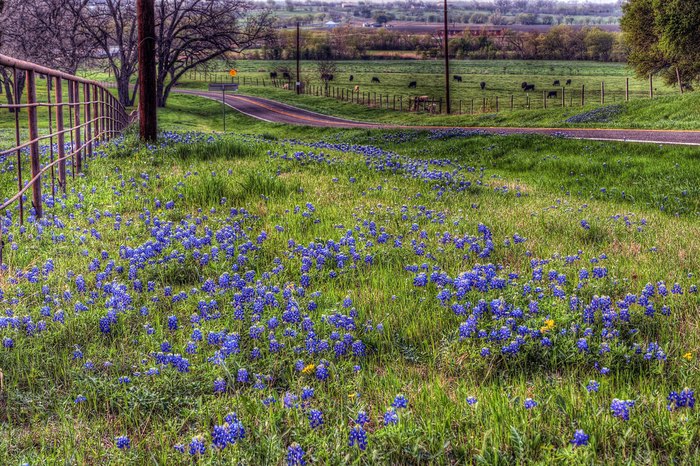 Have you ever taken the most scenic drive in Texas before? Was it brimming with natural beauty?! Share with us your experience in the comments section! Or if you want to experience more natural beauty throughout the state then try these 9 Beautiful Byways For Scenic Drives in Texas.
OnlyInYourState may earn compensation through affiliate links in this article.
Most Scenic Drive In Texas
January 08, 2021
What are the best little known attractions in Texas?
Let's face it, Texas is huge. So, of course, with a state this size, there will be tons of small, little-known attractions worth checking out. Texas hidden gems are some of the best ways to truly get a feel for the state. Our list of the 20 best-hidden gems in Texas ranges in the type of attraction from the beaches of Boca Chica to the Blue Lagoon swimming hole in Huntsville. Plus, if you really want to dive deep into Texas hidden attractions, then you'll want to explore these 12 best-kept secrets in Texas, too.
What are the best spring day trips in Texas?
While you're looking to find out where to see Bluebonnet fields in Texas, maybe you can also plan some epic spring day trips, too! Texas really shows off during the springtime and becomes a majestic place to visit and explore. For example, visiting Blanco, Texas is one of the best spring day-trips you can take from Austin, as you'll end up in the lavender capital of Texas! Meanwhile, this Texas Hill Country road trip can be tackled in a day and has tons of countryside and wineries to visit.
What are the best wildflower hikes in Texas?
While the Official Texas Bluebonnet Trail is one of the most spectacular trails in the state, there are other wildflower hikes worth trekking through. A great example is Muleshoe Bend in Spicewood, Texas. This simple hike outside of Austin will transport you to a sea of color when you visiting during blooming season. Also, Willow City Loop near Fredericksburg is a country road in the middle of nowhere that is teeming with wildflowers in the spring.