10 Southern California Swimming Holes That Are Ideal For Summer Fun
When you think of taking a swim in Southern California, the first thing that comes to mind is heading to the ocean. However, instead of spending a day at the beach like everyone else, how about heading out on a scenic hike to some of the best swimming holes in Southern California? Here are 10 epic spots in Southern California where you will find the perfect place to refresh yourself in the water on a hot summer day. There's no better place in the summer than SoCal, and you're bound to fall in love with one of these incredible swimming holes. They're perfectly stunning and refreshing!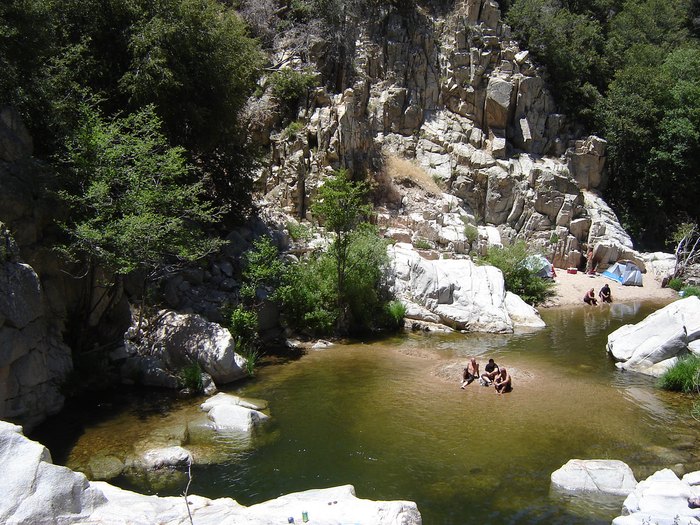 Wow – what a perfect way to spend the day! Where are your favorite swimming holes in Southern California?
Did you work up an appetite swimming? Check out these highly-rated restaurants in Southern California.
OnlyInYourState may earn compensation through affiliate links in this article.
More to Explore
swimming holes in SoCal
What's the most beautiful swimming hole in SoCal?
The region of Southern California is rife with natural beauty, but there are a few beautiful swimming holes in SoCal that make for a perfect experience on a warm day. If you're looking to ditch the public pool, then you might want to head to the slow-moving Deep Creek. The Rock Pool Swimming Hole is freezing but a true classic and it was once used as a filming spot for Planet of the Apes. Little Harbor and Shark Harbor can be found on the southwest side of Catalina, and you just might spot a lobster when the tide goes out.
What are the best waterfall hikes in SoCal?
There are multiple opportunities to hike to waterfalls in Southern California, but some hikes are better than others. Head to the highly popular Eaton Canyon Falls in Altadena if you're looking for ease of access, and if you're hiking in Santa Barbara, there's nothing like the 150-foot Tangerine Falls. Fish Canyon Falls is in Duarte and it has all the wow factor of a natural wonder. The hike is fairly popular, but the massive, gushing waterfall is well worth the time investment.
What are the most beautiful lakes in SoCal?
If you are in the mood for a lake day, know that there are some beautiful lakes in SoCal. Silverwood Lake is known for being one of the most beautiful lakes in the Inland Empire, and it's great for boating, fishing, and water skiing. Lake Gregory is in the San Bernardino National Forest and provides a tranquil getaway for locals to hide from the influx of tourists. Head to Lake Piru for camping, or maybe head out to Lake Cuyamaca if you're looking for great trout fishing. It's stocked with 40,000 pounds of fish per year!
Related Articles
Explore Southern California