The One-Stop-Shop In Southern California, EddieWorld, Is The Most Unique Gas Station On The Planet
You may not think of a gas station as a must-see destination in SoCal, but take one look at EddieWorld, one of the more unique roadside attractions in America, and you may want to add this to the top of your list on your next road trip. Did you have any idea this place even existed?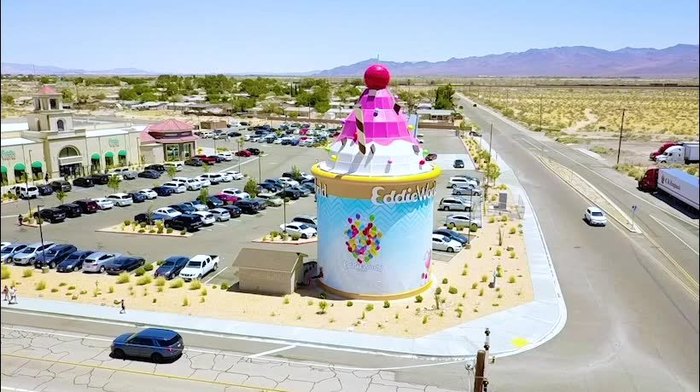 Did you have any idea this unique gas station in SoCal even existed? If you'd like to check out all the details about it, you can head to the official website.
Looking for another quirky roadside stop in SoCal? Check out this article about the bizarre jerky stand in Southern California. It's a total trip!
Address: 36017 Calico Rd, Yermo, CA 92398, USA
OnlyInYourState may earn compensation through affiliate links in this article.
Unique Southern California
October 11, 2022
Does Southern California have any unique roadside attractions? 
If you're a fan of these wacky cultural features, the many roadside attractions in Southern California will be just right for you. One of our favorites is Elmer's Bottle Tree Ranch along Route 66 in Barstow. This unique installation is exactly what it sounds like, a large plot of land packed full of trees made of discarded bottles. It's quite beautiful in a haunting way, and we love seeing trash being repurposed. Or you could take a visit to the iconic Salvation Mountain; this massive hand-painted hill was deemed "folk art worth of preservation," and when you see it we think you'll agree.  If you can't get enough of roadside attractions, we have even designed a lovely little Southern California road trip that will take you to eight distinct sites in about eight hours of driving.
What are the weirdest museums in Southern California? 
There are so many weird and cool museums in Southern California to both educate and delight all types of people! On one end you have the Bunny Museum, with its walls full of over 30,000 items shaped like bunny rabbits (don't forget to greet the massive bunnies guarding the door,) and on the other, you have the Museum of Death where you can learn about all things related to death. (This one's not for the faint of heart, that's for sure!) And for something really out of the box, there is the International Banana Museum. Yup, you heard that right. The cases at this unique museum hold around 25,000 items that look like bananas. Admission is only a dollar and there is even a café serving up banana-flavored treats.
Are there any good drive-in restaurants in Southern California? 
Those on the hunt for good drive-in restaurants in Southern California are in luck because there are a few great ones! The West Coast loves a good drive-in because it's the perfect place to chow down quickly and still enjoy great service. Firstly we recommend the B & J Drive-in in Ventura for a really authentic experience. This old school drive-in is kind of a hidden secret, they've been serving up delectable burgers and shakes since the 50s, and in more recent years have added Mexican classics like tacos and aqua Fresca to the menu. Another great Southern California drive-in is Mel's diner in Sherman Oaks. This place will make you feel like you've traveled back in time in the best of ways. Definitely give the short-rib grilled cheese a try!
Address: 36017 Calico Rd, Yermo, CA 92398, USA
OnlyInYourState may earn compensation through affiliate links in this article.