A Myrtle Beach Tunnel Is One Of South Carolina's Most Unique Underground Tunnels
Most people who have been to the coast in South Carolina will agree: an underground tunnel (a bit redundant, but we wanted to be emphatically sure you know it's underground), is well, just unheard of – especially one that's open every single day to anyone who chooses to enter. But in spite of the extremely low elevation, and even though the ocean is only steps away, the unique tunnel in South Carolina found along South Ocean Boulevard in Myrtle Beach is a must-see.
Looking to feed your wanderlust? Click here to sign up for our Bucket List Newsletter for a weekly peek at the best destinations throughout the country to inspire your next adventures.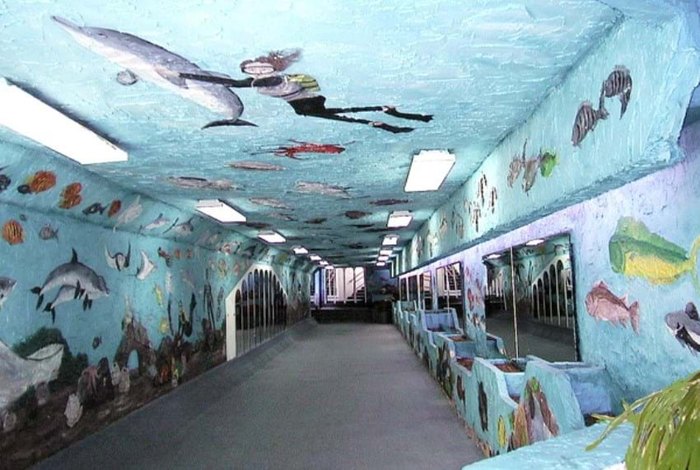 Before today, had you ever heard of this secret underground tunnel in Myrtle Beach? We'd love to know!
For more hidden attractions in the Palmetto State, keep reading 17 Hidden Places In South Carolina Only Locals Know About!
Address: 305 13th Ave S, Myrtle Beach, SC 29577, USA
OnlyInYourState may earn compensation through affiliate links in this article.
Unique Tunnel In South Carolina
June 18, 2020
What are the best little known attractions in South Carolina?
There are many hidden gems in South Carolina that not many people know about, but should. Other than underground tunnels, did you know that there is a Buddhist Monastery hiding in the woods in the Palmetto State? The Vein Quang Monastery is located in Clover, and it's free for the public to explore. The temple and grounds are stunning. South Carolina is also hiding a supposed Fountain of Youth. Located in Blackville, there is an unassuming pipe jutting up from the ground that is constantly flowing with spring water. It's said that the waters have healing powers. Who knew?
What are the most unique places in South Carolina?
While underground tunnels at the beach are a rare sight in South Carolina, they aren't the most unique and weird thing in the state. You'll find some truly bizarre spots around the Palmetto State, like the Button King Museum. This quirky museum in Bishopville is full of… well, buttons! Buttons cover tons of surfaces and objects, like a bathtub or an entire car. It is all the work of one person. Another unusual spot is Taxidermy Paradise in Rock Hill, South Carolina. It's exactly what you think it is: a place filled to the brim with stuffed animals. It is cool to look at, but a bit creepy to some.
What are the best beaches in South Carolina?
Myrtle Beach is certainly a popular spot in South Carolina, but there are many other places where you can experience the state's beautiful coastline. The beach at Kiawah Island is said to be one of the most romantic places in the entire country. Edisto Beach is a fantastic spot to enjoy the soft sands and the sounds of the waves. It has a nearby restaurant and gift shop, too. Hunting Island State Park has a popular beach, and for good reason. The white sands are gorgeous and the park has the state's only lighthouse open to the public. Seeing the lighthouse on the beach is incredibly picturesque.
Address: 305 13th Ave S, Myrtle Beach, SC 29577, USA
OnlyInYourState may earn compensation through affiliate links in this article.