This Bargain Hunters Road Trip Will Take You To The Best Thrift Stores In South Carolina
If you're like us, then thrifting is more than just saving money (although, that IS a great reason to shop at resale stores!), it's about treasure hunting – and a day filled with finding treasures is always a good day in our book! Ready to save some dough and find some great bargains? Hit the road with this road trip that will take you straight to all the best thrift stores in South Carolina.
Looking to feed your wanderlust? Click here to sign up for our Bucket List Newsletter for a weekly peek at the best destinations throughout the country to inspire your next adventures.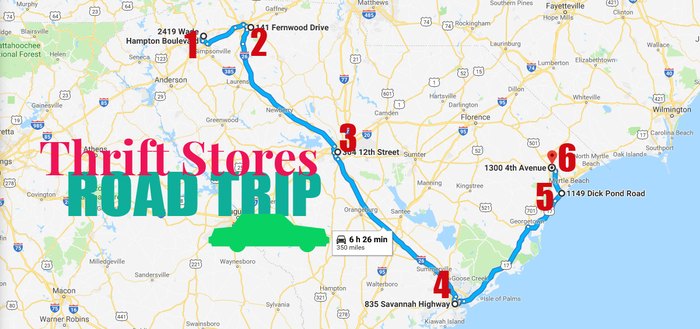 Can't plan for this road trip soon enough? We totally get it!
For another day trip filled with thrift store mania… head to this one town in South Carolina's Upstate that has more than 15 thrift stores alone!
OnlyInYourState may earn compensation through affiliate links in this article.
Address: 2419 Wade Hampton Blvd, Greenville, SC 29615, USA
Address: 141 Fernwood Dr, Spartanburg, SC 29307, USA
Address: 1217 Sunset Blvd, West Columbia, SC 29169, USA
Address: South Seas Plaza 1149, Dick Pond Rd Unit 1137, Myrtle Beach, SC 29575, USA
Address: 1300 4th Ave, Conway, SC 29526, USA
best thrift stores in South Carolina
March 04, 2021
Where can I shop for used books in South Carolina?
Bookworms will be delighted by the number of quaint used book stores tucked away in every corner of the Tar Heel State. With locations in both North Charleston and Greenville, Mr. K's Used Books, Music and More is a popular destination for book lovers to explore. This friendly family-owned shop is known for its books' great quality, prices, and knowledgeable staff. A beloved community bookstore in Goose Creek is Dreamalot Books. This small family business offers an impressive variety of books as well as comics and music at unbeatable prices. Ed's Editions Bookstore is an adorable spot in West Columbia where you'll find an incredible selection of old, new, and rare books with an astounding number of genres to choose from.
Where can I find the best flea markets in South Carolina?
Shop til you drop and spend a day treasure hunting through the stalls of one of South Carolina's many massive flea markets. In Pickens County, The Pickens Bargain Exchange Flea Market is a locally loved landmark. This enormous market is full of friendly vendors selling an astounding variety of goods from rare antiques to power tools. The Coastal Carolina Flea Market in Ladson is another huge shopping oasis where visitors can easily get lost perusing the 1,000 booths. The Mt. Croghan Flea Market is a great spot to spend a relaxing afternoon shopping. The friendly atmosphere of this outdoor market has hundreds of tables selling jewelry, plants, antiques, locally made perfumes, toys and so much more.
Are there any nostalgic stores in South Carolina?
There's nothing more nostalgic than wandering the aisles of an old-timey general store and our state is home to some of the most charming spots in the south. The Mast General Store in Greenville has been a part of retail history in the area since 1898. You'll be delighted by the variety of goods always offered at excellent prices. In historic Conway, a visit to Papa's General Store is a must. Established in 1903, this store is the perfect place to grab a unique gift and you'll be charmed by the friendly and helpful staff. A more boutique addition to traditional general stores is the Bluffton General Store nestled in the quaint Old Town of Bluffton. This lovely shop has a unique collection of regional art, handmade gifts, and locally made candles inspired by the coastal lifestyle.