The Best Small Town Getaway In South Carolina: Best Things To Do In Sullivan's Island
Visiting South Carolina is like stepping into a welcomed tapestry of history, natural beauty, and warm hospitality. From the charming cobblestone streets of Charleston to the breathtaking vistas of the Blue Ridge Mountains, this vibrant state offers many experiences for every type of traveler. With its vibrant cities, quaint towns, and welcoming locals, South Carolina invites visitors to embrace its Southern charm and create memories that will last a lifetime. With a state with as much diversity and offerings as South Carolina, it's no wonder we've chosen one of its small towns to feature in our Small Town Getaways series. Are you ready to explore all of the things to do in Sullivan's Island?
Sullivan's Island, South Carolina, is a quaint barrier island at the entrance of the Charleston Harbor with just shy of 2,000 residents. There is such a refreshing variety of things to do, you'll never have a dull moment. Originally named O'Sullivan's Island, this captivating destination harmoniously blends the rich heritage of the South with the idyllic charm of a coastal getaway. As soon as you step foot onto these shores, you'll be captivated by the beauty and serene nature that encapsulates the island.
Do you love visiting and learning all about America's small towns? Take our interactive quiz to discover which Small Town Getaway you should take this year.
Is Sullivan's Island Worth Visiting?
Absolutely! Sullivan's Island is definitely worth visiting for its unique blend of natural beauty, rich history, and relaxed coastal vibes. Once you figure out what to do on Sullivan's Island, there will never be a dull moment.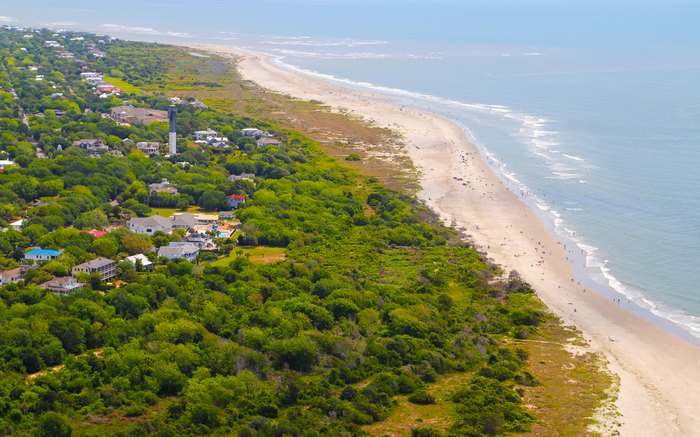 How To Get To Sullivan's Islan
Getting Around Sullivan's Islan
Best Time To Visit Sullivan's Island
While the best time of year to visit Sullivan's Island depends on personal preference, we're here as your premier Sullivan's Island travel guide to help you choose what season is best for you. No matter the season, activities in Sullivan's Island are aplenty, so let's get to it!
Where To Stay In Sullivan's Island
Whether you're seeking beachfront properties with stunning views or a quaint getaway with a touch of Southern hospitality, Sullivan's Island has options to cater to various tastes. As far as Sullivan's Island attractions go, sometimes it's the accommodations that take the cake. What's unique about choosing where to stay when on Sullivan's Island is that there will be minimal if any, hotel or motel options. Your best bet is finding a charming home-away-from-home through VRBO.
Day One – A Few Local Favorites
Whether you're taking a day trip to Sullivan's Island or staying a weekend, we've come up with the best itinerary for you to consider. From finding out "what is Sullivan's Island known for?" to exploring the beauty of the downtown Sullivan's Island area, we have two full days of fun, sun, and delicious eats.
Day Two – Exploring The Coast
Visiting Sullivan's Island, South Carolina is an experience of a lifetime. From sun-soaked days on the shore to immersing yourself in the island's unique heritage, this small town offers a memorable coastal getaway for all who venture its way. Whether you're strolling along its pristine beaches, exploring its historic landmarks like Fort Moultrie, or indulging in the local cuisine, the island offers a delightful escape from day-to-day life.
Also, you can keep learning about Sullivan's Island courtesy of The Charleston Life's YouTube video:
Are you ready to plan a day trip to Sullivan Island, South Carolina? Do you have your own list of things to do on Sullivan's Island that you want to share with fellow travelers? Sound off in the comments section! Or if you want to keep learning about the best Small Town Getaways across the country, we have so many more for you to consider visiting.
OnlyInYourState may earn compensation through affiliate links in this article. As an Amazon Associate, we earn from qualifying purchases.
Related Articles
Featured Addresses

Sullivan's Island, SC, USA