The Scenic Island Route That Leads To 7 Old-Fashioned Bakeries, Antique Shops, And More
Did you know South Carolina has over 30 sea islands? It's pretty amazing to live in a state where no matter where you are located, you can drive half a day or less from many areas and instantly experience a laid-back lowcountry lifestyle. Or just take a nice, relaxing scenic drive in South Carolina with gorgeous sights as well as a few old-fashioned places to eat or shop. It's the perfect weekend day trip.
This scenic drive along Highway 700 we have for you today is a 38-minute, 21.5-mile drive if you are driving straight through. We are starting the route on James Island. It stretches through Johns Island and ends on Wadmalaw Island. You'll want to plan for the amount of time you'd like to spend at each stop to determine how long the trip will take overall.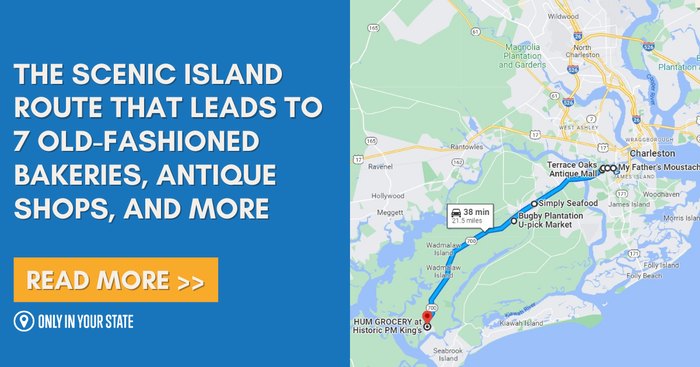 Ready to take this road trip? Visit each of the websites or Facebook pages for these stops for more information:
My Father's Moustache Facebook page
Terrace Oaks Antique Mall website
Terrace Oaks Antique Mall Facebook page
Bugby Plantation U-Pick Market Facebook page
HUM Grocery at Historic P.M. King's does not have a website or Facebook page. You can follow HUM Grocery on Instagram for updates.
Which of these stops is most appealing to you and why? Share with us in the comments below!
OnlyInYourState may earn compensation through affiliate links in this article.