Up To 300 Million Monarch Butterflies Are Headed Straight For South Carolina This Spring
Are you ready for a magical butterfly-filled spring and summer? The dainty Monarch butterflies that received so much national attention over the years for their migration southward to Mexico will soon make their way across South Carolina en route to the northern U.S. and Canada – and South Carolina will have a front-row seat for the event! You do not want to miss out on catching a glimpse of the monarch butterflies in South Carolina, and we're sharing all the information you need to get in on all the magic. Check it out…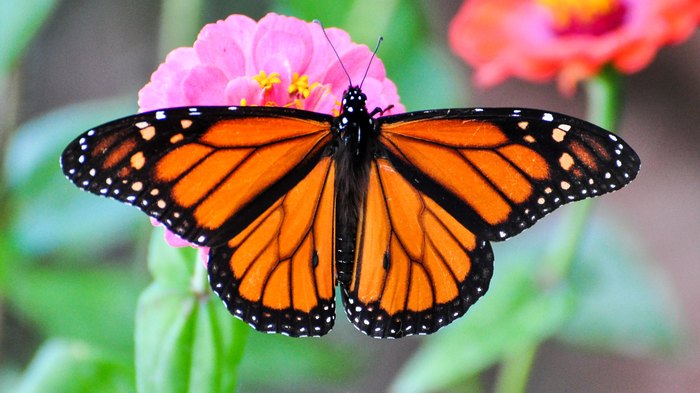 When can we expect to start seeing this magical migration of monarch butterflies in South Carolina? This interactive map on the website of the U.S. Forest Service predicts the flight patterns as well as the timing. It indicates exactly when we can expect the big show here in the Palmetto State.
Do you have a cherished spot for butterfly viewing in SC? Make sure to share it in the comments section! Also, for more on butterflies: Have you visited the enchanting butterfly house at Brookgreen Gardens? It sure is magical!
OnlyInYourState may earn compensation through affiliate links in this article.
More to Explore
Monarch Butterflies In South Carolina
What other animals migrate to South Carolina in the spring?
Butterfly migration in South Carolina is one of the most magical experiences you can find out in nature. You'll see millions of black and orange butterflies flittering about the skies as the temperatures begin to rise. But this isn't the only migration to keep an eye out for in SC. In fact, spring marks a very important time for birds, too. Nesting activities reach a peak during the springtime, usually in the month of May. As birds make their way back from warmer climates, some choose South Carolina as their place to set up shop. A few of the birds you can expect to find during the spring months in South Carolina include whip-poor-wills, warblers, willets, and other small songbirds.
What are the best signs of spring in South Carolina?
Most residents cannot wait for spring in South Carolina. While winters don't become too disastrous compared to other northern states, spring is still a wonderfully magical time within the state. The first thing to keep an eye out for is warmer weather. Another? Allergy symptoms! Ha! But you can also expect to hear birds chattering, butterflies flittering through the skies, and leaves budding on trees—that indicates that spring is near.
How can I best enjoy nature in South Carolina?
Enjoying nature in South Carolina can be quite easy if you know the right places to explore. South Carolina is filled with such wonderful pockets of natural beauty, you can make a whole season out of being outdoors. If you don't know where to start, though, we have a few stunning recommendations. These 9 natural attractions in South Carolina are as beautiful as it gets, showcasing a truly magical side of nature.
Related Articles
Explore South Carolina
Featured Addresses