The Story Behind This Evil Spot In South Carolina Is Bone-Chilling
Most people don't realize the story of America's first "Bonnie and Clyde" originates right here in this creepy story from South Carolina, with legendary murders committed by a husband and wife team in the early 1800s.
The Palmetto State has some history that includes some downright evil wrongdoing. Acts of murder and mayhem that were carried about in such a way that both they and the people committing them are now infamous. This evil-doing team is certainly at or near the top of the list. In this article we take a look at both the couple and the spot where they committed the murders.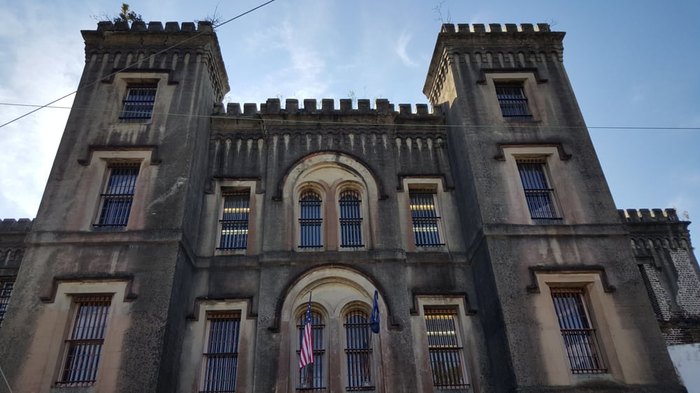 Were you a little curious about the location of the Six Mile House where Lavinia Fisher lived and became known as the first female serial killer in the country?
For another place in South Carolina where an act of evil occurred, read this article about John D. Long Lake.
OnlyInYourState may earn compensation through affiliate links in this article.
Address: Old Charleston Jail, 21 Magazine St, Charleston, SC 29401, USA
Creepy Story From South Carolina
September 25, 2020
What are the most haunted places in South Carolina?
There are many places that are notorious in South Carolina history for being supposedly haunted. One spot that is often considered the most haunted is Oakwood Cemetery in Spartanburg, South Carolina, also known as Hell's Gate. Many people report seeing weird things here and hearing the ghostly sounds of children's laughter. It is not recommended to visit after dark. Another haunted place is the site of the Greenville Tuberculosis Hospital. Though the building is gone, its foundation and some remnants can be seen in Herdlotz Park, which was built over the former grounds of this place.
What are the most popular ghost stories in South Carolina?
There are many scary stories from South Carolina that'll send chills down your spine. The story of Crybaby Bridge, for example, is a popular one many have heard of. This is an actual bridge that exists in Anderson, South Carolina. It is said that a mother threw her unwanted baby over the bridge and deeply regretted it. If you visit the bridge at night, you might see the ghost of the mother looking for her child and hear the wails of a baby cry. Spooky, right? If you love ghost stories, Charleston has many, too, and you can find them by clicking here.
What are the creepiest places in South Carolina?
From being the hideouts of notorious South Carolina criminals to the eerie ruins of ghost towns long since abandoned, there are quite a few places throughout the state that only the brave will visit. We even put together a Creepy South Carolina Road Trip that'll take you to some of them, if you're feeling up for it. This route will take you to haunted cemeteries to spots where ghosty lights are said to be seen. Some of these spots are only creepy if you know the story behind them, while others just look spooky right from the get-go.