This Haunted Road Trip Will Lead You To The Scariest Places In South Carolina
With its long history of hauntings and reports of paranormal activity, South Carolina holds the promise of all sorts of scary things. From haunted cemeteries to haunted bridges and ghosts that terrorize hotel guests, this haunted road trip through the Palmetto state is sure to both thrill you and send chills up your spine as you seek out some of the most haunted places in South Carolina!
The drive time for this spooky road trip is just over nine hours and here is a link to a Google Map with all the locations plotted in one trip for you. Gas up the car and hit the road for this haunted South Carolina Road Trip!
Looking to feed your wanderlust? Sign up for our Bucket List Newsletter for a weekly peek at the best destinations throughout the country to inspire your next adventures.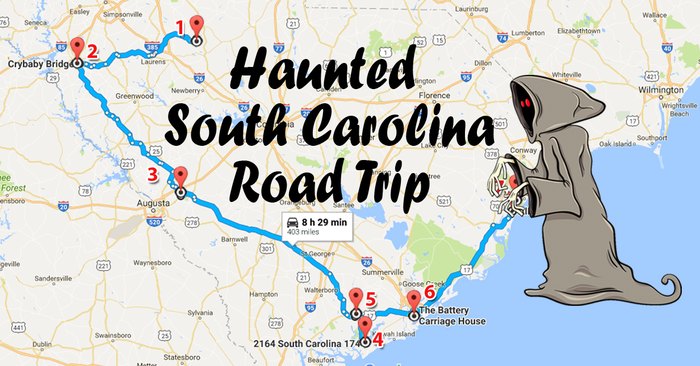 No matter the time of year, some of the most haunted places in South Carolina are a thrill to seek out. Is there anything we should add to this haunted South Carolina road trip? Want even more scary stuff? Take a leisurely drive down this Haunted South Carolina Road! Or for more adventures, check out our list of exciting South Carolina road trips.
OnlyInYourState may earn compensation through affiliate links in this article.
More to Explore
Most Haunted Places In South Carolina
What is the most famous ghost story from South Carolina?
Undeniably, the most notorious ghost story from South Carolina begins with the mid-1800s' accidental burial of a young woman thought to be deceased. Julia Legare's seemingly lifeless body was entombed in the family mausoleum located at the Presbyterian Church on Edisto Island. A short time later, after another family member passed away, the tomb was opened to inter the newly deceased loved one. Upon opening the tomb, it's said that young Julia's bones were found in a pile by the door; and what looked to be fingernail scratches on the inside of the door were assumed to belong to Julia - trying to signal she was alive.
What is the most haunted town in South Carolina?
Although not an official town in South Carolina, St. Helena Island is still called the most haunted town in South Carolina. From specific spots that have numerous reports of paranormal activity to roving ghosts, such as the headless soldier who walks along a main highway after dark with a lantern and who is believed to be looking for his lost head, this sea island in South Carolina has an insane amount of ghost sightings. In fact, the entire Beaufort area has more than its fair share of ghost stories!
What is the creepiest abandoned place in South Carolina?
If it's a huge thrill you're seeking in the way of a ghost sighting, then head to St. Helena Island to a fort that was abandoned long ago, yet is thought to be a permanent home to the spirits of some soldiers that may have passed through the fort at one time or another. It's at this abandoned place in South Carolina that the headless soldier is said to have been decapitated after a disagreement with another soldier. Upon walking around the fort (now a town park), visitors have reported hearing the groans of the headless soldier, as well as seeing apparitions of other soldiers in uniform.
Related Articles
Featured Addresses