21 Exceptional South Carolina Attractions That Are Nothing Short Of Amazing
There comes a time when you have visited every museum, checked out every zoo and all of the beaches your state has to offer. At a certain point, you just want to see something that you may not have come across before. You have that deep hankering for the unique, the odd, the 'never done before'. I call this the "Something New Syndrome" (watch out for that phrase in the new medical dictionaries…I'm sure it will become a 'thing').  If this sounds like you, then I have some good news! Whether you're a weekend tourist or a lifelong resident, these are the 21 best attractions in South Carolina and they are nothing short of amazing!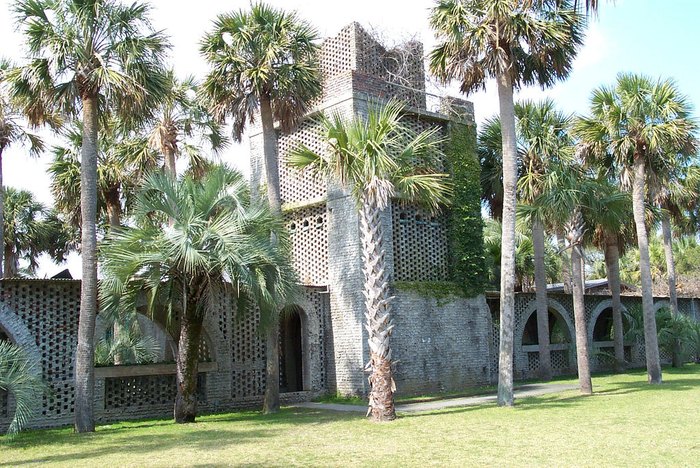 I hope that a few of these or at least one has piqued your interest. South Carolina has a lot of amazing places and most of them are just around the corner from you. These are just a few of the unique things you can do here. If I have missed anything that you find particularly interesting, please feel free to share it on our nominations page.
OnlyInYourState may earn compensation through affiliate links in this article.
Address: Atalaya Castle, Atalaya Rd, Murrells Inlet, SC 29576, USA
Address: 1502-1508 Main St, Columbia, SC 29201, USA
Address: Columbia, SC, USA
Address: Taylor St, Columbia, SC 29201, USA
Address: Angel Oak Tree, 3688 Angel Oak Rd, Johns Island, SC 29455, USA
Address: 13 Harbourside Ln, Hilton Head Island, SC 29928, USA
Address: Union, SC 29379, USA
Address: Healing Springs, SC 29817, USA
Address: 200 W Benson St, Anderson, SC 29624, USA
Address: The Pearl Fryar Topiary Garden, 145 Broad Acres Rd, Bishopville, SC 29010, USA
Address: Castle Pinckney, Mt Pleasant, SC 29464, USA
Address: Fort Sumter National Monument, South Carolina 29412, USA
Address: Mars Bluff Atomic Bomb Impact Crater, South Carolina 29506, USA
Address: The Avian Conservation Center & Center for Birds of Prey, 4719 N Hwy 17, Awendaw, SC 29429, USA
Address: Peachoid, Peachoid Rd, Gaffney, SC 29341, USA
Address: 2904 Fantasy Way, Myrtle Beach, SC 29579, USA
Address: Alligator Adventure, 4604 Hwy 17 S, North Myrtle Beach, SC 29582, USA
Address: Dizzy Gillespie Dr, Cheraw, SC 29520, USA
Address: Greenville Health System Swamp Rabbit Trail, Greenville, SC 29601, USA
Address: Raven Cliff Falls Trailhead, Geer Hwy, Cleveland, SC 29635, USA
Address: Stumphouse Tunnel, Stumphouse Tunnel Rd, Walhalla, SC 29691, USA
Best Attractions In South Carolina
July 16, 2020
What are the best day trips in South Carolina?
Spend the day exploring the Palmetto State by experiencing any one of the many day trip spots there. We've even put together a 12-month South Carolina Day Trip List so you can have a destination to visit throughout the whole year. The trips include things like a hike to the top of Table Rock in March, an introspective visit to Pretty Place Chapel in June, a scenic drive to Glendale Shoals Heritage Preserve in October, and a festive visit to the Christmas House in December. There is a place for every month of the year, so be sure to check out the article for some great inspiration.
What are the most unique things to do in South Carolina?
When it comes to thinking about things to do in South Carolina, many people already know about Mrytle Beach or Charleston, but those aren't the only places you can go. This state is full of many surprises and unique spots you won't find anywhere else. For example, did you know that you can visit a winery in the mountains? Victoria Valley Winery in Cleveland, South Carolina. It's right at the base of Table Rock and has stellar views that you can enjoy while sipping delicious SC wines. For a unique shopping experience (and the ultimate dream for any purple-loving person), visit PURPLEologist in North Myrtle Beach. The store is entirely dedicated to everything purple, from clothing to house decor and just about anything else.
What are the best free things to do in South Carolina?
There are many places to visit in South Carolina where you can have lots of fun without having to open up your wallet. The stunning Swan Lake and Iris Gardens in Sumter, South Carolina are part of a free public park. The lake has all 8 species of swan found in the US and it's full of stunning sights. You can take a trail through the biggest area of old-growth bottomland hardwood trees in the country for free when you visit Congaree National Park. The park, located near Hopkins, has miles worth of trails and boardwalks to explore this mystical forest.