Don't Let The Outside Fool You, Under The Pier In Pennsylvania Serves Some Of The Most Delicious Seafood Around
How many times did you hear that old saying "don't judge a book by its cover" when you were growing up? We probably all heard it more times than we can count. But, until we read a really awesome book – with a drab cover – the lesson might not have sunk in. Still, it's a valuable lesson we can all take heed of today. Like, say, when we're considering going into a shop or a restaurant that may have a less-than-flashy exterior. This unassuming seafood restaurant in Pennsylvania may not look like much on the outside, but it serves some of the most mouthwatering eats around. Let's take a look at Under The Pier, a wonderful hidden gem restaurant in Levittown, Pennsylvania.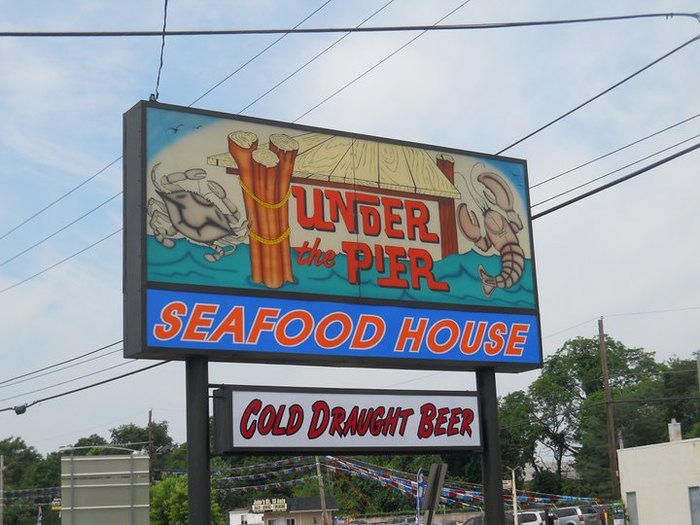 What do you think of this unassuming seafood restaurant in Pennsylvania? Would you recommend it to other seafood lovers? Join the conversation in the comments! And if you know another must-visit eatery, nominate it for a chance to be featured.
Hungry for more? Check out our previous article: These 13 Little Known Restaurants In Pennsylvania Are Hard To Find But Worth The Search.
Address: 7600 Bristol Pike, Levittown, PA 19057
unassuming seafood restaurant in Pennsylvania
July 06, 2020
What are the best hidden gem restaurants in Pennsylvania?
Under The Pier in Pennsylvania isn't the only eatery worth seeking out. In fact, there are tons of scrumptious hidden gem restaurants in Pennsylvania! Letterman's Diner, located in Kutztown, is a neighborhood eatery that's worth going out of your way for. It's only open for breakfast and lunch, so you'll want to get there early. Stuff your face with scrumptious eggs, hash browns, and bacon. Of course, their burgers are equally delicious. For more classic meals, visit Aunt Jennie's 41 Diner in Gap, Pennsylvania. The atmosphere is old-fashioned and welcoming, and the menu is full of comfort food favorites. Their pancake sandwich is beyond epic.
What are the best seafood restaurants in Pennsylvania?
Looking for the best seafood restaurants in Pennsylvania? We know plenty of excellent options. First, head over to The Boat House in Hawley. This lovely destination offers splendid lakeside views and scrumptious meals. Be sure to try their fried catfish and fresh crab cakes. After you experience this place, you should enjoy a meal at Paddock on Market. This cozy eatery in York is known for the friendly service and mouthwatering menu items. Save room for dessert! Their pies are to-die-for.
Where can I get the best pizza in Pennsylvania?
Arcaro & Genell, located in Old Forge, is one of the best pizza places in Pennsylvania. As one of the oldest restaurants in the area, it's garnered quite a name for itself. And that's really saying something — Old Forge is considered the "The Pizza Capital of the World." Try their spinach pizza with white sauce. You'll love this combination of bold flavors.
Address: 7600 Bristol Pike, Levittown, PA 19057