If You Live Near Pittsburgh You'll Want To Visit This Amazing Park This Winter
Avoid suffering from a bout of stir-craziness this winter by getting outdoors and enjoying all the activities that nature has to offer! There's no better place to enjoy a winter day outside than at Moraine State Park, the best winter park near Pittsburgh. It's filled to the brim with fun things to do and see, including some of the best winter hikes in Pittsburgh, too. Check it out: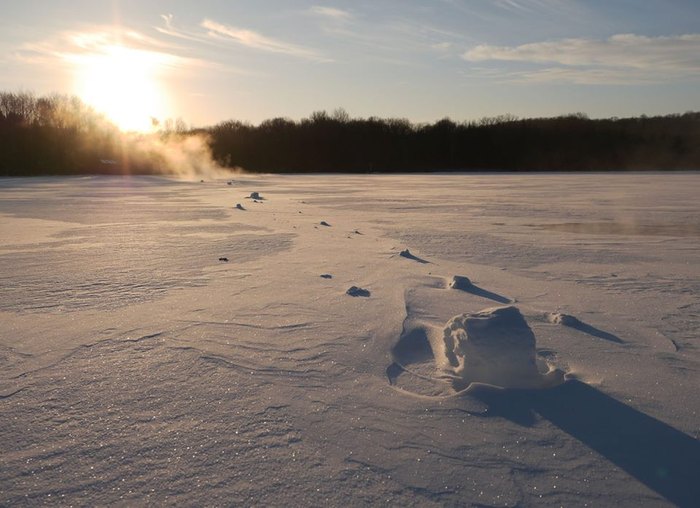 Find the ultimate in winter fun at Moraine State Park, the best winter park near Pittsburgh, and consider hiking to these six stunning frozen waterfalls around Pittsburgh for another winter adventure. What's your favorite place in or near Pittsburgh during winter? Tell us about them in the comments!
OnlyInYourState may earn compensation through affiliate links in this article.
Address: 225 Pleasant Valley Rd, Portersville, PA 16051, USA
Best Winter Hikes in Pittsburgh
January 10, 2022
Where can I go cold weather hiking in Pittsburgh? 
Pittsburgh is a great city, even when it's covered in snow. Did you know there are some great cold weather hiking trails in Pittsburgh (well, and around it, too)? It's true! We've covered some great winter hikes near Pittsburgh before; some of our favorites include Schenley Park, which has an absolutely beautiful loop trail that comes in at under two miles long, making it the perfect short excursion for a Sunday afternoon. We also love Frick Park, which has the Frick Park Loop Trail, and Beechwood Farms Nature Preserve is calling your name, too. If you'd like more information on each of these and more, check out this article of the eight best winter hikes near Pittsburgh. We have no doubt you'll love them as much as we do! No matter what your skill level may be, you'll find something wonderful to traverse as soon as you'd like to. We got your back!  
What are some fun winter outdoor activities in Pittsburgh? 
Pittsburgh is a fun place to be during winter for sure. You can always do the popular stuff, like skiing (even cross-country skiing), ice skating, snowshoeing, and more. If you like holiday traditions, you can check out any one of the awesome annual events and festivals all over town, or you can check out a suburb or two that go all-out for wintertime. Of course, there's also always winter hiking like we mentioned above, and there's also camping, both in cabins and the old-fashioned way. Honestly, if it's something you can do during summer, you can probably find a way during winter, too! Well, within reason, anyway... ironically, if you wanted to go swimming, that would be an indoor affair during winter! When it comes to the great outdoors, though, Pittsburgh is wonderful, especially during the coldest months of the year.