Here Are 17 Gorgeous Waterfalls Hidden in Pennsylvania
When you think waterfalls, you might think rain forests, parrots, and tigers. Perhaps you think of Tarzan. Anyway, we're betting that you don't think of your own backyard. Surprisingly, though, Pennsylvania has many tucked away waterfalls. Read on to discover 17 of the best waterfalls in Pennsylvania.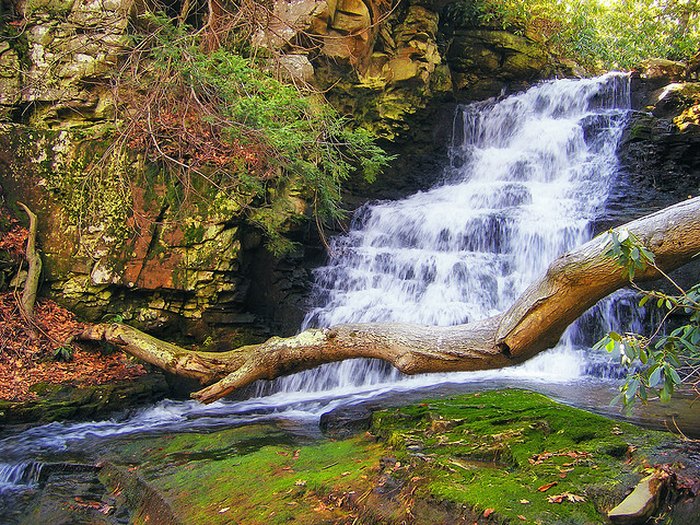 Do you agree that these are 17 of the best waterfalls in Pennsylvania? What others would you add to the list? Let us know in the comments! For an epic road trip, hit the highway on the ultimate waterfalls road trip in Pennsylvania.
OnlyInYourState may earn compensation through affiliate links in this article.
Address: Spring Brook Township, PA 18444, USA
Address: Glen Mills, PA, USA
Address: Fall Creek, Pennsylvania 18360, USA
Address: Ontelaunee Creek, Albany Township, PA 19529, USA
Address: Silverthread Falls, Delaware Township, PA 18328, USA
Address: Fallingwater, 1491 Mill Run Rd, Mill Run, PA 15464, USA
Address: Pike County, PA, USA
Address: New Hope, PA 18938, USA
Address: Bushkill Falls, 138 Bushkill Falls Trail, Bushkill, PA 18324, USA
Address: Ridley Creek State Park, 1023 Sycamore Mills Rd, Media, PA 19063, USA
Address: National Park Dr, Bangor, PA 18013, USA
Address: Loyalsock State Forest, Fox Township, PA 18616, USA
Address: Beltzville State Park, 2950 Pohopoco Dr, Lehighton, PA 18235, USA
Address: 999 Potters Falls Rd, Kennerdell, PA 16374, USA
Address: Reservoir Dr, Philadelphia, PA 19119, USA
Address: Windber, PA 15963, USA
Address: Ohiopyle State Park, 124 Main St, Ohiopyle, PA 15470, USA
Address: Cucumber Falls, Stewart Township, PA 15431, USA
Best Waterfalls in Pennsylvania
October 16, 2020
What are the best waterfall hikes in Pennsylvania?
Raymondskill Falls holds distinction as the tallest waterfall in the state. It tumbles down 150 feet, promising stunning views all year around. Follow the .03-mile Raymondskill Creek Trail, which leads straight to the majestic waterfall. Although the trail is short and sweet, be prepared for some rough terrain along the way. If you're up for a challenge, go on one of the most epic waterfall hikes in Pennsylvania. Falls Trail in Ricketts Glen State Park spans just over seven miles and boasts 21 waterfalls, the tallest of which tumbles down 94 feet.
What are the most beautiful lakes in Pennsylvania?
Did you know that Pennsylvania lays claim to 2,500 lakes? Only 50 of those lakes, however, are natural lakes. All, whether natural or manmade, are worth a visit. One of the most scenic places in Pennsylvania, Raystown Lake stretches 8,000 incredible acres. It's also considered one of the clearest lakes in PA. Stairway Lake, one of the many hidden gems in Pennsylvania, is well-worth a visit. To reach the crystal clear lake that features a classic wooden pier, follow the 2.9-mile Stairway Lake Trail in the Delaware State Forest Wild & Natural Areas.
What are the most picturesque hiking trails in Pennsylvania?
Beauty's all around us in PA. We don't have to travel far to find it, but when we're up for an adventure, we just have to head out on one of the many picturesque hiking trails in Pennsylvania. The Golden Eagle Trail, for example, offers a hearty challenge in its nine miles. However, you'll be treated to sensational views of Pine Creek Gorge along the way. Thousand Steps Trail also offers a pretty mighty challenge as you'll have to literally climb 1,000 steps to the top of Jacks Mountain. The views from the top are well worth the time and the effort.