Horseshoe Curve Is A Haunted Tunnel In Pennsylvania That Has A Dark History
Horseshoe Curve in Altoona beckons tourists who want to experience the beauty and architectural wonder of the railroad line with tracks that curve around the mountainside like a horseshoe. But, not far away sits a tunnel, not really an architectural wonder like the Horseshoe Curve but memorable nonetheless. This tunnel – this haunted tunnel in Pennsylvania, to be exact – has spawned tales of terror for years. The question is: Do you believe the legend?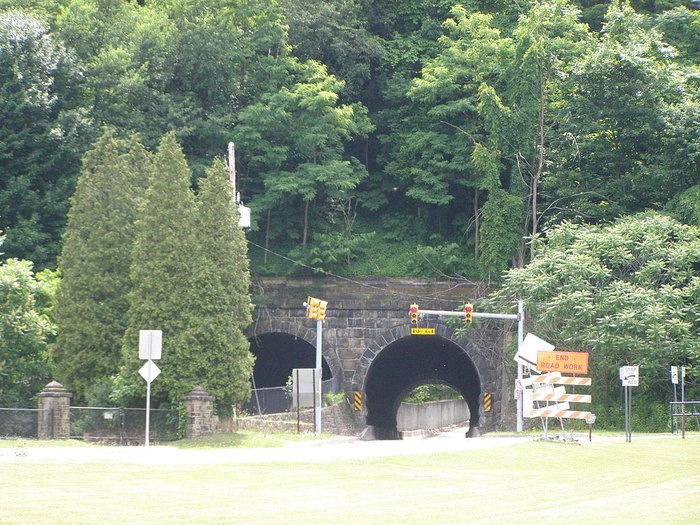 Will you drive through this haunted tunnel in Pennsylvania to see for yourself if ghosts really do exist? Or, perhaps visit one of these eight haunted cemeteries in Pennsylvania that will terrify you?
OnlyInYourState may earn compensation through affiliate links in this article.
Address: Altoona, PA, USA
Haunted Tunnel In Pennsylvania
May 01, 2020
What are the most haunted places in Pennsylvania?
If you're on the hunt for the most haunted places in Pennsylvania, plan a visit to Gettysburg. The historic city, in fact, might be the most haunted spot in the entire state. Start your visit at Gettysburg Hotel, where you might want to stay the night, if you're brave enough. During the Civil War, the hotel served as a makeshift hospital. Many say the spirits of the dead still remain. You might even catch a glimpse of Rachel, who's been spotted in hotel rooms digging through luggage and dresser drawers.
To see more of the most haunted places in Pennsylvania, including Pennhurst Hospital and State School and Devil's Den, follow this haunted road trip.
What are the most famous Pennsylvania ghost stories?
Van Sant Covered Bridge, in New Hope, is home to one of Pennsylvania's ghost stories that will make chills run down your spine. Although known as Crybaby Covered Bridge, Van Sant is the site of the tragedy of a young mother and her newborn baby. After being shunned by family and friends, the mother threw her baby from the covered bridge before hanging herself. Today, if you go to the covered bridge, listen for the anguished cries of the newborn. If you're really daring, drive over the bridge in the middle of the night, stop, and listen for the sound of the mom's footsteps as she paces back and forth on the roof of the bridge.
Can I take a tour of any haunted places in Pennsylvania?
If creepy stories from Pennsylvania give you chills, imagine what a tour of some of the most haunted places in PA will do. Eastern State Penitentiary, for example, was a place of human misery as inmates languished in solitary confinement. (It even housed Al Capone at one time.) Today, visitors can tour the haunted prison, but be prepared for the unexpected – including to experience the paranormal.