Take The Pennsylvania Donut Trail For A Delightfully Delicious Day Trip
Ever just crave a donut? Maybe you smell the sugar-sweet aroma of fresh donuts as you drive past your favorite donut shop. Or, perhaps you just woke up this morning with a desperate urge for a straight-from-the-oven, fresh donut. Well, whatever has got you in the mood for a donut, you'll get to sample some of the best donuts in Pennsylvania along this trail.
Click here for the directions to the Pennsylvania donut trail.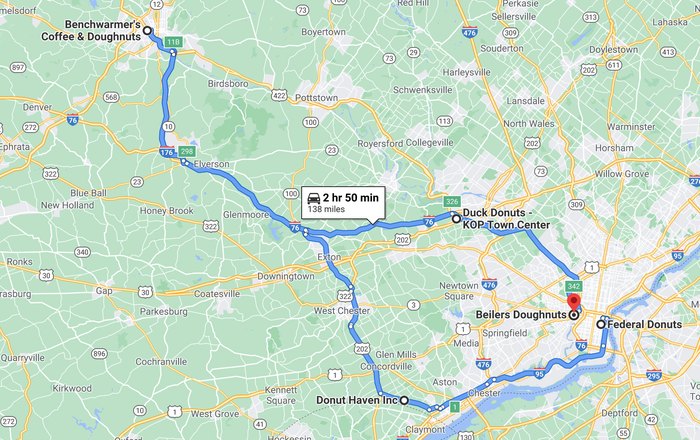 Are there other shops you think have the best donuts in Pennsylvania that should be added to this trail? Let us know in the comments! And, if you love donuts and ice cream then you will want to check out Lochel's located in Hatboro. This bakery makes an incredible ice cream donut. Click here to read more.
Address: 540 South St, Philadelphia, PA 19147, USA
Address: 1362 Naamans Creek Rd, Garnet Valley, PA 19060, USA
Address: 400 Penn Ave, West Reading, PA 19611, USA
Address: 201 Main St, King of Prussia, PA 19406, USA
Address: 3900 Chestnut St, Philadelphia, PA 19104, USA
Best Donuts In Pennsylvania
April 23, 2021
What are the best restaurants in Pennsylvania?
Pennsylvania has numerous incredible restaurants, many of which belong on your bucket list. Pittsburgh and Philadelphia are even considered some of the best dining destinations in the United States, but you can find excellent dining options all across the state. Some of the top restaurants include Schultheis' Carriage House Restaurant set in an 1800s farmhouse in East Greenville. The unique ambiance, delicious food, and specialty wines and beer make this a memorable place to dine. If you are looking for a place to be entertained watching a play while dining, purchase tickets for Dutch Apple Dinner Theatre in Lancaster. For more options, visit our previous post on highly rated restaurants in Pennsylvania.
What other food trails can I take in Pennsylvania?
We have several food trails in and around the Keystone State, so let's get ready to explore! Do you like hoagies? We have a hoagie trail taking you around the state in search of the best deli hoagies. If you want another sweet trail, take this delicious ice cream trail around the Finger Lakes region. From a dairy farm to a creamery and a variety of ice cream shops, you will be able to satisfy your sweet tooth in no time! 
Where can I find the best coffee shops in Pennsylvania?
Obviously donuts and coffee go hand-in-hand, so if we spend time discussing the best donuts in Pennsylvania, then we must address the best coffee shops! Specialty lattes can be found at Muggles Mug Coffee Shop, a Harry Potter-themed cafe in Jim Thorpe. Order a Butterbeer latte which tastes like butterscotch or Deathly Hallows with notes of chocolate and orange. Whether or not you're a Potterhead, a trip to Muggles is worth it for the one-of-a-kind coffee concoctions. In Butler, which is close to Pittsburgh, lies another cafe, one that's been around for well over 100 years. Cummings Candy and Coffee House offers fresh roasted coffee and chocolates! It's the best of both worlds here at this cafe. 
Address: 540 South St, Philadelphia, PA 19147, USA
Address: 1362 Naamans Creek Rd, Garnet Valley, PA 19060, USA
Address: 400 Penn Ave, West Reading, PA 19611, USA
Address: 201 Main St, King of Prussia, PA 19406, USA
Address: 3900 Chestnut St, Philadelphia, PA 19104, USA