The Southwest Ohio Day Trip takes You To One Of The Best Waterfalls And Wineries In The State
Day trips promise all of the excitement and memorable moments of a long road trip, packed into a single day and, if planned just right, only requiring a single tank of gas. A day trip from Valley Vineyards in Morrow to Fallsville Falls in New Vienna offers a little bit of everything – good food, tastings, a leisurely stroll, and a breathtaking waterfall. That's just a snapshot of the fun that awaits, too.
The drive from Valley Vineyards to Fallsville Falls, tucked in Fallsville Wildlife Area, tallies between 34 and 40 miles, depending on which route you choose. If you opt for the shorter 34-mile route, you should arrive at Fallsville Wildlife Area in just over half an hour; the longer route takes just a few minutes more. (Don't forget to take traffic into consideration, too.) Google Maps makes it easy to see each route and to decide which you prefer.
Wine and waterfalls pair perfectly for a day trip, no matter where you live in Ohio. Even if you're not within driving distance of Valley Vineyards and Fallsville Falls, check out these 10 unforgettable day trips in Ohio to find the perfect one for you.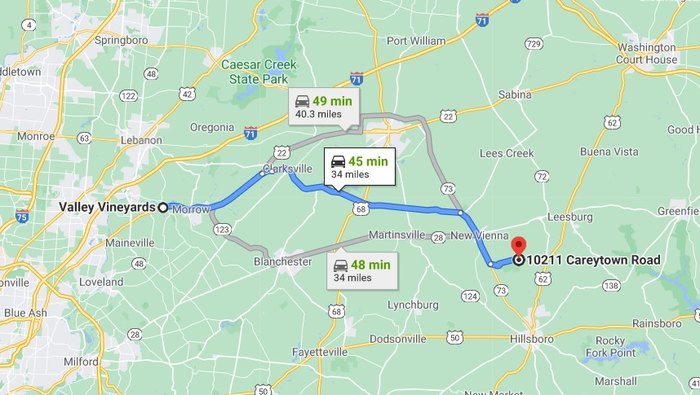 Can you think of a better way to spend a day than at Valley Vineyards and Fallsville Wildlife Area? It's one of those day trips you can take any time of the year, and you may even want to visit in each season for the changing outdoor scenery. Add your starting address to the Google Maps directions to make your planning even easier. Don't forget to follow Only In Ohio on Facebook and to sign up for Ohio's daily newsletter, so you can discover even more fun and unique things to do throughout the state.
Address: Valley Vineyards, 2276 US-22 &, OH-3, Morrow, OH 45152, USA
Address: 10211 Careytown Rd, New Vienna, OH 45159, USA