The Lighthouse Road Trip On The Ohio Coast That's Dreamily Beautiful
Lighthouses are probably one of the last things that come to mind when you think of Ohio. However, Ohio is actually home to several picturesque lighthouses along the shores of Lake Erie. We've created a lighthouse road trip in Ohio that hits all of our favorites. (For driving purposes, we didn't include the Lake Erie Islands lighthouses.) And we think this is one road trip that will truly make you see Ohio in a whole new light.
Check it out: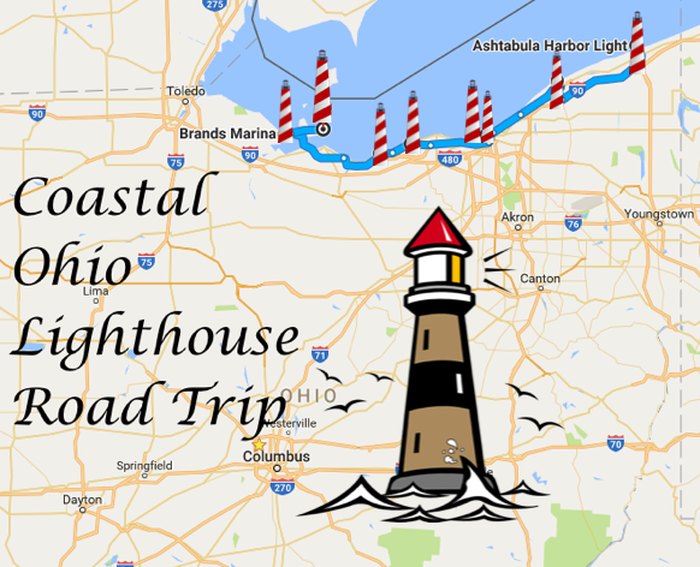 The total trip only takes about 3 and a half hours of drive time, so you could take the trip in one day or break it into two days if you want to really take your time. We've included a link to the Google Map here.
What do you think of this magnificent lighthouse road trip in Ohio? Would you take it? Share your thoughts with us in the comments below. Don't hesitate to offer advice on additional local landmarks that would fit well with this trip.
And for more unique road trips in Ohio, be sure to check out our previous articles, Take This Gorgeous Fall Foliage Road Trip To See Ohio Like Never Before and This Haunted Road Trip Will Lead You To The Scariest Places In Ohio.
OnlyInYourState may earn compensation through affiliate links in this article.
Address: Ashtabula Harbor Light, Ashtabula, OH 44004, USA
Address: Fairport Marine Museum and Lighthouse, 129 2nd St, Fairport Harbor, OH 44077, USA
Address: Fairport Harbor West Breakwater Light, Lake Erie, Fairport Harbor, OH 44077, USA
Address: Cleveland Harbor West Pierhead Lighthouse, 2800 Whiskey Island Dr, Cleveland, OH 44102, USA
Address: Lorain Harbor Lighthouse, llc, Lorain, OH 44052, USA
Address: 480 Main St, Vermilion, OH 44089, USA
Address: W State Rte 163, Port Clinton, OH 43452, USA
Address: Marblehead Lighthouse, 110 Lighthouse Dr, Marblehead, OH 43440, USA
Lighthouse Road Trip In Ohio
April 19, 2020
What is the most famous lighthouse in Ohio?
The Buckeye State might not come to mind when you think of lighthouses, but our coast has several fascinating landmarks that are as scenic (if not more scenic than) those in New England. While there may not be one local lighthouse that is more well known than any other, this article offers us a glimpse into several historic lighthouses in Ohio with tales to tell. There's one inland lighthouse in Coshocton County, and the old Fairport Harbor lighthouse is said to be haunted by a ghostly feline.
Are there any other unique road trips to take in Ohio?
Ohio is full of fascinating attractions that are worth visiting! While The Buckeye State may not be a tourist hot spot, locals and visitors alike fall in love with unique road trips in Ohio like our famous wine and waterfall road trip. You can also treat your taste buds with a foodie tour through our pretty state. Taco and margarita themed road trips make for a particularly memorable weekend adventure!
What else can I do along the coast in Ohio?
There is so much to explore when it comes to things to do on the coast of Ohio! Lake Erie certainly has a negative reputation, but you can still uncover many pristine places along its southern shore. At least one of the beaches near Cleveland, Huntington Beach, is pristine enough to have earned recognition by the Clean Beaches Council. If you venture inland, you might uncover bizarre landmarks like the infamous Blue Hole of Castalia. All along the coast, you will find great dining and friendly people. What you may not expect, however, is that you will absolutely fall in love with our local landscape.