The Glacial Grooves On Ohio's Kelleys Island Look Like Something From Another Planet
Did you know that Ohio is home to the largest accessible glacial grooves in the world? Few people do. You can find them on Kelleys Island, and they're a must-see if you get a chance to travel to the Lake Erie Islands. These otherworldly grooves are absolutely fascinating to see, as they're definite proof of an important piece of Ohio, American, and world history. Take a peek at what you can expect at the Glacial Grooves on Kelleys Island in Ohio.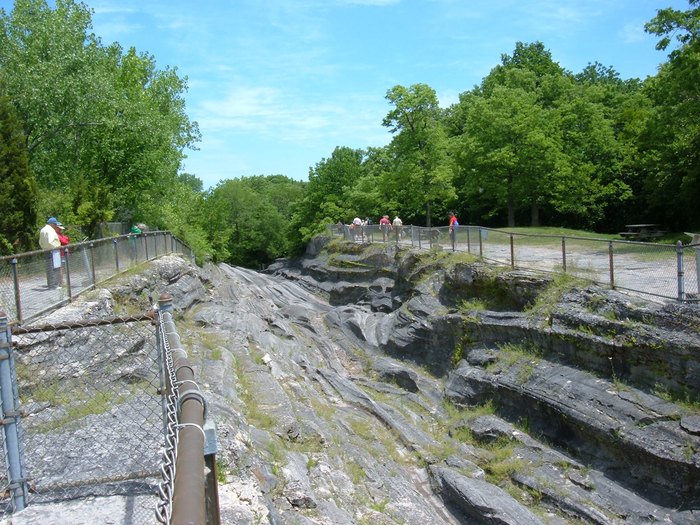 Have you ever been to Glacial Grooves on Kelleys Island in Ohio? If so, let us know what your experience was like!
And for more natural (and manmade) wonders in Ohio, check out our previous article: 12 Marvels In Ohio That Must Be Seen To Be Believed.
OnlyInYourState may earn compensation through affiliate links in this article.
Address: Glacial Grooves, 739 Division St, Kelleys Island, OH 43438, USA
Glacial Grooves On Ohio's Kelleys Island
January 08, 2021
Which hidden gems in Ohio should I visit?
Ohio is an amazing place to live. If you're not sure what to do when you've got free time, you might want to start uncovering some of Ohio's hidden gems – like Ravenwood Castle in New Plymouth. You might feel as though you've stepped into a fairy tale. Even better?  You can stay overnight in one of the enchanting cottages. The Healing Chapel in Coolville is one of those hidden gems you just have to see to believe. At 10 feet by 14 feet, it's the tiniest chapel in Ohio. If you loved playing in treehouses as a kid, you'll love sleeping overnight in one as an adult at The Mohicans in Glenmont.
What are the coolest places in Ohio?
You'll find some of the world's coolest places in Ohio. If you don't already have a bucket list, you just might want to start one. To the top of that list, add Great Seal State Park. The lush park is oozing with history and an abundance of natural beauty. If you've always wanted to see the Golden Gate Bridge but haven't been able to make it to the west coast, check out the Anthony Wayne Bridge in Toledo, which is reminiscent of the famous bridge. Great Serpent Mount in Adams County, Brandywine Falls, and the Wilds in Cumberland are all among the coolest spots you'll definitely want to check out in Ohio.
What are the most unique things to do in Ohio?
You'll find some of the most unique things to do in Ohio, things that you just can't do anywhere else in the world – literally. There's only one Rock and Roll Hall of Fame, for example, and that's in Cleveland. Have you added it to your bucket list yet? Slip on your comfiest pair of shoes for a stroll along Court Avenue. America's Longest Concrete Street dates back to 1891 and, not too far away, you'll happen upon the 15-foot McKinley Street, the World's Shortest Street. Did you know that Cedar Point Amusement Park is also the Roller Coaster Capital of the World? Yep, you can spend a whole day or even more riding all the coasters at the popular park.