Take This Gorgeous Fall Foliage Road Trip To See North Dakota Like Never Before
Year after year, the North Dakota landscapes turn into canvases full of vibrant colors as summer transitions to winter. Whether it just be within the tree rows on the side of the road, or in the dense trees along the rivers and lakes, all the leaves turn into sights like none you have ever seen. If you're looking for the absolute best places to see in order to experience the season at its most beautiful, we have the road trip just for you. Get ready to experience the best fall foliage in North Dakota!
This road trip mainly covers the north and east-central portion of North Dakota, so those of you in western North Dakota should check out our Natural Wonders Road Trip, which is based on that part of the state. Many of the places featured on that trip are just as beautiful in the fall as these are! As for you, Central North Dakotans – the ND Parks & Rec site has some great recommendations for awesome fall foliage viewing in all areas here.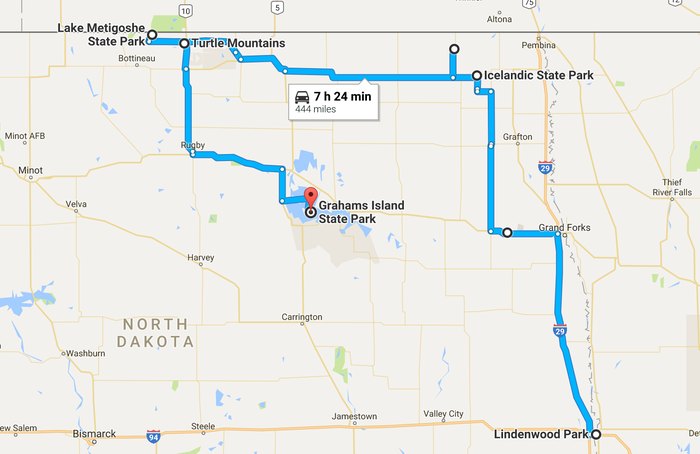 After this, you can either head east from Devil's Lake back to Grand Forks and then south on I-29 to return to Fargo, or take the long way and go further south from Devil's Lake to Jamestown and go east from there. Of course, you could do this entire route in reverse, or any other ways if you choose; just change the starting point and order on Google Maps. It's easy!
What are your favorite things to do in the fall in North Dakota? Share your best adventures in the comments! If you're looking for more autumn destinations, check out these seven places in North Dakota. If you have any suggestions about amazing autumn wonderlands in this beautiful state of ours, tell us about them by filling out this form.
Address: North Dakota, USA
Address: 1905 Roger Maris Dr, Fargo, ND 58103, USA
Address: 152 S Duncan Rd, Devils Lake, ND 58301, USA
Address: 3084 Park Ave NE, Arvilla, ND 58214, USA
Address: Lake Metigoshe State Park, 2514 2nd St E, Bottineau, ND 58318, USA
Address: 13571 ND-5, Cavalier, ND 58220, USA
Address: 11950 Co Hwy 55, Walhalla, ND 58282, USA
Best Fall Foliage In North Dakota
August 13, 2019
What is the best time to see peak fall foliage in North Dakota?
North Dakota's gorgeous fall colors begin appearing in the middle of September, but they really become vibrant toward the end of the month. These crimson leaves remain in the state until the end of October. These months are the best times to hike through North Dakota's lovely landscapes. 
Where are the best places in North Dakota to see fall foliage?
People flock to the Southern Red River Valley to see North Dakota's breathtaking fall foliage. In addition to the wonderful trees, this area has peaceful hiking trails and tranquil views. Turtle River State Park is another popular autumn destination. This heavily wooded trail looks positively radiant in September and October. 
What are the best North Dakota hikes to take in the fall?
The Wind Canyon Trail, located in Theodore Roosevelt National Park, is a beloved autumn trail. This breezy hike overlooks the Little Missouri River, and it looks exceptional in the fall. You'll also find astonishing fall colors in North Dakota along the trails in Icelandic State Park. This bewitching destination is located just north of Cavelier, North Dakota. The shaded hiking trails look like something straight out of a fairy tale.
Address: North Dakota, USA
Address: 1905 Roger Maris Dr, Fargo, ND 58103, USA
Address: 152 S Duncan Rd, Devils Lake, ND 58301, USA
Address: 3084 Park Ave NE, Arvilla, ND 58214, USA
Address: Lake Metigoshe State Park, 2514 2nd St E, Bottineau, ND 58318, USA
Address: 13571 ND-5, Cavalier, ND 58220, USA
Address: 11950 Co Hwy 55, Walhalla, ND 58282, USA