Everyone In North Carolina Should See What's Inside The Gates Of This Abandoned Theme Park
Did you know there are actually many abandoned places in North Carolina? And that there is even an abandoned theme park in North Carolina?! The Tar Heel State sure is full of surprises. North Carolina's famous Ghost Town In The Sky, located in Maggie Valley, opened to much fanfare in 1961 and thrived for decades. Generations of North Carolinians (and beyond) made lifelong memories at the theme park on top of the mountain. But eventually, the park attendance began to dwindle and parts of the attraction fell into a state of disrepair. Ultimately, it closed for good and was sold to a group that renamed the attraction 'Ghost Town Village' with a scheduled opening date of June 2016.
But you know what they say about the best-laid plans, and those plans were averted and the park was put up for sale again soon after. Then, another resurrection of the park was announced with an opening in April 2019 which never happened. It sits abandoned, decaying, and haunted with the impressions of hundreds of thousands (millions?) of small children who have carried the memories of Ghost Town in the Sky into adulthood. In July 2019, the park was put up for sale for a reported $5.9 million. Today, exploring this abandoned theme park in North Carolina is considered trespassing, and we strongly discourage any attempts. But we are sharing an eerie drone video below that offers a look inside this piece of North Carolina history. Check it out…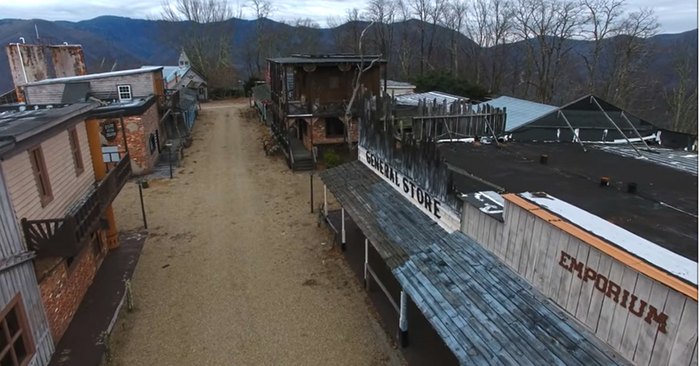 Did you and your family visit Ghost Town in the Sky? Did you know about this now-abandoned theme park in North Carolina? What a creepy place! Both enthusiasts and newbies to abandoned places will love this footage.
For more abandoned places in North Carolina (yes — there are lots, lots more abandoned places in the Tar Heel State!), take a look at this entire abandoned neighborhood.
OnlyInYourState may earn compensation through affiliate links in this article. As an Amazon Associate, we earn from qualifying purchases.
More to Explore
abandoned theme park in North Carolina
Are there many ghost towns in North Carolina?
There are many ghost towns in North Carolina! While most of us associate the West with ghost towns, the American South has its own fair share of abandoned villages and locales. North Carolina, in fact, has plenty of amazing, eerie, and haunting ghost towns. We've constructed an entire road trip that routes you through the most infamous ghost towns in North Carolina! This road trip takes you through all of North Carolina's historic, haunted, and creepy abandoned places. Stop along the way and plan other sites to see, or spread the trip out – one to the coast and another through the mountains. It starts you at Brunswick Town and ends at the haunting, submerged ghost town of Judson. Buckle up; it's going to be a scary ride!
What's the most famous ghost town in North Carolina?
In terms of the most famous ghost towns in North Carolina, Brunswick Town ranks high on the list. Once a thriving Colonial Town home to the first Royal Governor and a popular trading port, Brunswick Town fell victim to attacks during the Revolutionary War. Many of the residents fled for safety or to more prosperous cities like Wilmington and New Bern. Today, you can walk through the structural remains of St. Phillips Church and even see indentations where cannon balls struck the church during the Civil War.
Are there any haunted places in North Carolina?
There are many haunted places in North Carolina. Would you spend the night in a haunted hotel in North Carolina? How about a haunted mansion, or would you even visit a haunted museum? You'll find it all right here in the Tar Heel State:
Related Articles
Explore North Carolina
Featured Addresses

Ghost Town In The Sky, 16 Fie Top Rd, Maggie Valley, NC 28751, USA