This All-Day Float Trip Will Make Your North Carolina Summer Complete
Are you ready for the most fun you can have on the water with absolutely no effort? High Mountain Expeditions has a river tubing adventure that's the perfect way to cool off on a hot summer day. Whether you're spending the day with family or friends, tie up together and create one of the best memories of the summer on this fun and relaxing trip down the New River tubing in North Carolina.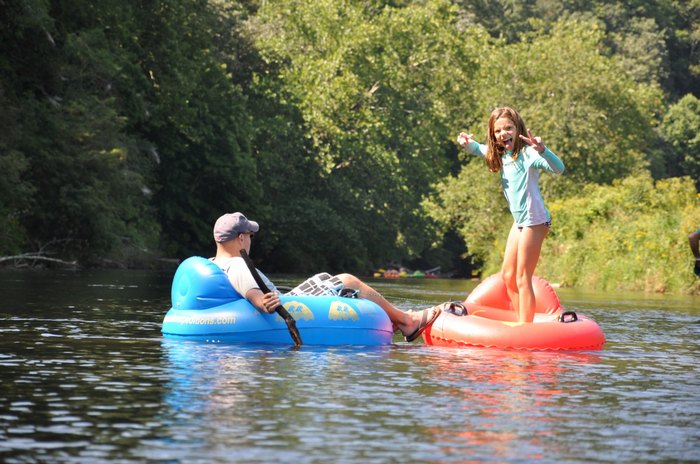 High Mountain Expeditions has three locations in the Tar Heel State. The river tubing trips leave from the Boone Outpost. The minimum age for this trip is three years. The water ranges from two to eight feet in depth and is considered calm, and has no rapids. Learn more about costs and make reservations to go tubing in North Carolina with a visit to  High Mountain Expeditions Outpost on the web.
Address: 1380 Hwy 105 South, Boone, NC, 28607
Getting outside during the hot summer months doesn't mean spending the day in sweltering heat. For another fun, family adventure near Boone, head over to Grandfather Mountain for a walk across the Mile High Swinging Bridge.
Address: 1380 NC-105, Boone, NC 28607, USA
Tubing In North Carolina
June 17, 2019
Where is the best place to go tubing in North Carolina?
The six best places to go river tubing in North Carolina are on the New River near Boone (details about an outfitter can be found in the article above), on Deep Creek near Bryson City, the Dan River in North Carolina's Piedmont, the French Broad River near Asheville, the Green River near Saluda, and the Cape Fear River. Various outdoor outfitters are available for tube rentals and some also provide shuttles to and from drop off and pick up locations. Learn more at this link.
What else can I do besides tubing on the New River?
Whitewater Expeditions offers a variety of ways to get out on the water to enjoy the scenic New River. From whitewater rafting trips to kayak and canoe excursions there are trips available for all skill levels. At New River State Park, located in Laurel Springs, visitors can canoe and kayak on the New River as well as spend the night at special canoe-in campsites located right on the river. Several access points (more here) offer paddle-in camping sites and one access point offers RV camping, tent camping, and paddle-in camping.
Does North Carolina have clean rivers?
While there have been instances in the past in North Carolina where a river may have been inadvertently contaminated, the state, working closely with the EPA, has worked diligently to clear away contaminants so that North Carolina's rivers can be used for more than simply recreation. For recreational purposes, sticking with a guide service with a long-standing reputation within the community is the best way to avoid recreating in contaminated waters, as locals and businesses keep up with the most recent news.
Address: 1380 NC-105, Boone, NC 28607, USA