You Could Spend Hours In Poor Charlie's Flea Market And Antiques In North Carolina
Digging for treasures at flea markets and antique stores is an adventure that can last from a couple of hours to all day, and at Poor Charlie's Flea Market and Antiques in New Bern, the latter is more the case. Bring some comfortable footwear and prepare to browse through 4,000 square feet of merchandise in this colossal old warehouse.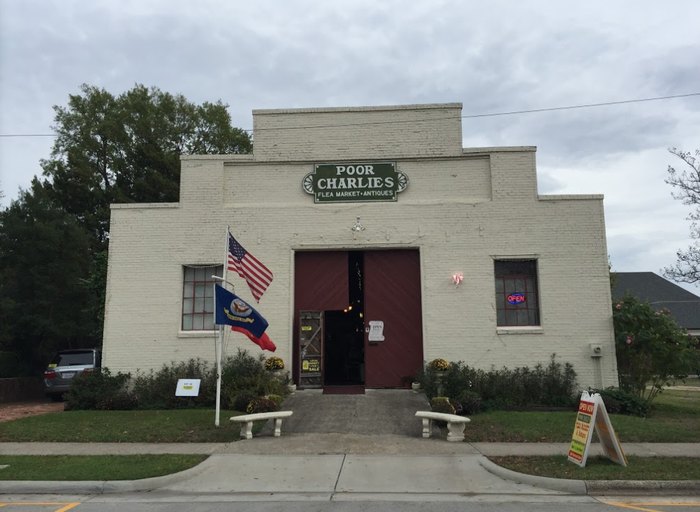 Poor Charlie's Flea Market & Antiques is open six days a week (closed on Tuesdays). The current hours are Monday, Wednesday and Thursday from 9 a.m. to 5 p.m., Friday from 10 a.m. to 5 p.m., Saturday from 8 a.m. to 5 p.m., and Sunday from 12 p.m. to 5 p.m. Learn more and give them a follow on their Facebook page!
For more reasons to visit New Bern, read: The Little Town In North Carolina That Might Just Be The Most Unique Town In The World.
OnlyInYourState may earn compensation through affiliate links in this article.
Address: 208 Hancock St, New Bern, NC 28562, USA
Best Flea Markets In North Carolina
February 23, 2023
Where Can I Find The Largest Flea Markets In North Carolina?
Smiley's Flea Market is a massive indoor-outdoor market located in Fletcher. It doubles as a farmer's market, with an amazing selection of fresh produce, but the real highlight is the collection of vendors selling everything under the sun. Anyone can sell here if they pay for the table space, so the collection of vendors is changing all the time and makes repeat visits highly worth it.
Brightleaf Flea Market has a massive 81,000-square foot footprint, and that's before you get to the collection of over two hundred vendors outside! Open every weekend from 8 to 5, Brightleaf has a large grocery section to go with its eclectic collection of vendors. Some of the highlights include hand-made leather goods, vintage furniture, and unique food vendors that frequently change.
Webb Road Flea Market is open year-round and is truly sprawling - located over ten buildings and over 130,000 square feet! Open Saturday and Sunday, it specializes in clothing, antiques, and fresh produce. It also has a huge food court filled with local businesses selling tasty lunch options. This is one flea market that you can definitely spend a full day exploring.
What Are The Oldest Flea Markets In North Carolina?
In addition to Poor Charlie's Flea Markets and Antiques, these flea markets have stood the test of time.
Raleigh Flea Market has been around since 1971, and this massive fair has come a long way since its beginnings as a few stalls at the state fair. Now, it's expanded to six buildings with over a thousand vendors, ,it's open every Friday and Saturday, and it's especially popular with those searching for vintage books and toys.
Jamestown Flea has built a reputation as one of the best flea markets in North Carolina, and it's been around since the 1980s. Doubling as a farmer's market, it's a great all-purpose destination that is open to all comers. One of the biggest selling points is that a table only costs $6 - so even the smallest vendors can afford to join the party here and hawk their unique finds.