The Longest Covered Bridge In North Carolina, At Ole Gilliam Mill Park, Is 140 Feet Long
North Carolina's covered bridges are actually numerous, in spite of the fact that only two are credited with being the oldest and only remaining original bridges in the state. At last count, this link listed 65 covered bridges within the confines of the Tar Heel State. Additionally, the same link credits a bridge in a historic park as being the longest covered bridge in North Carolina and measuring a whopping 140 feet in length. Let's take a closer look: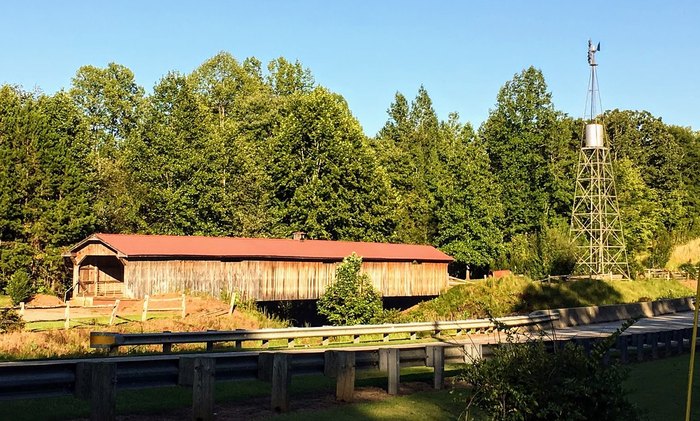 For more covered bridges to explore in North Carolina, check out the state's oldest, Bunker Hill Covered Bridge, and the only other covered bridge billed as 'original' in the state: Pisgah Covered Bridge.
OnlyInYourState may earn compensation through affiliate links in this article.
Address: Ole Gilliam Mill Park, 4717 Carbonton Rd #4637, Sanford, NC 27330, USA
longest covered bridge in North Carolina
October 07, 2021
What are some other covered bridges in North Carolina?
There's something so alluring about covered bridges. Not only are they historic reminders of the past, but they're also architecturally alluring and so much fun to photograph. If you're a fan of covered bridges, you'll be pleased to hear that there are a handful of them that you can visit. Some must-see covered bridges in North Carolina include the Kimesville Covered Bridge in Liberty, Pisgah Covered Bridge in Ashboro, Bunker Hill Covered Bridge in Claremont, Gaddy Covered Bridge in Mt. Gilead, High Falls Covered Bridge in the DuPont State Forest, and Will Henry Stevens Covered Bridge in Highlands. Curious to explore these landmarks? We've outlined a covered bridges road trip in North Carolina that will take you to them!
Does North Carolina have any haunted bridges?
Yes indeed! One of the most famous haunted bridges in North Carolina is known as Helen's Bridge, and it can be found on Beaucatcher Road in Asheville. This notorious bridge has attracted paranormal investigators from all over due to the high reports of ghostly activity. What's especially disturbing about this stone bridge is that visitors have reported that the hauntings seem to follow them for days -- even weeks -- after having visited. Yikes!
What should I put on my North Carolina bucket list?
You've come to the right place! Here at OnlyInYourState, we're dedicated to bringing you the best attractions in North Carolina, some of which are relatively undiscovered. When putting together your North Carolina bucket list, we recommend adding the following destinations: Crabtree Falls, White Lake, Sand Dollar Island, Jockey's Ridge State Park, Joyce Kilmer Memorial Forest, Rattlesnake Lodge Ruins, Elk River Falls, Bullington Gardens, and McGailliard Falls Park. For more information, check out our complete North Carolina bucket list.