These 6 North Carolina Haunted Hotels Will Make Your Stay A Nightmare
North Carolina is home to a lot of history, and wherever there is history, there's usually a ghost story or two floating around. You might be surprised to learn that there are many haunted hotels in North Carolina where you can spend the night and might just have a paranormal encounter of your own. If you weren't a believer before, you might just be after staying a night or two in one of the notoriously haunted hotels in North Carolina.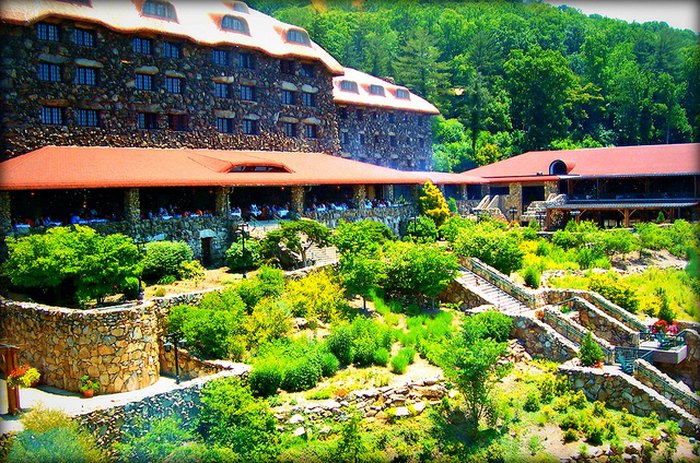 Do you think you could spend a few nights at one of these haunted hotels in North Carolina? For even more paranormal fun, gas up the car and take this road trip to some of the most haunted places in North Carolina.
Address: The Omni Grove Park Inn, 290 Macon Ave, Asheville, NC 28804, USA
Address: Green Park Inn, Blowing Rock, NC 28605, USA
Address: The Carolina Inn, 400 Forsythe St, Fayetteville, NC 28303, USA
Address: 1889 WhiteGate Inn & Cottage, 173 E Chestnut St, Asheville, NC 28801, USA
Address: The 1927 Lake Lure Inn and Spa, 2771 Memorial Hwy, Lake Lure, NC 28746, USA
Address: The Winds Resort Beach Club, 310 E 1st St, Ocean Isle Beach, NC 28469, USA
Haunted hotels in North Carolina
August 23, 2022
Are there any haunted restaurants or bars in North Carolina?
Once you've spent the night in one of the most haunted hotels in North Carolina, it's time to check out some of the other paranormal hotspots in The Tar Heel State. The Country Squire Restaurant Winery and Vintage Inn checks off more than one box here, as it's both one of the most haunted bed and breakfasts in North Carolina as well as a restaurant and winery. Located in Dublin County, many paranormal teams have investigated the property which dates back 200 years, and have reported spooky paranormal activity like heading doors slam when no one is around disembodied footsteps, and even audio recordings of people who have passed away on the property.
What are the creepiest cemeteries in North Carolina?
Cemeteries are often paranormal hotspots, with ghost stories and urban legends always swirling around. One of the most haunted cemeteries in North Carolina is the Riverside Cemetery in Asheville. Established in 1885, this cemetery is close to where a bloody Civil War battle took place, and many visitors report hearing the faint shouting of soldiers, phantom gunfire, and in a few rare cases, the sightings of what appears to be Confederate soldiers in full uniform.
What are the most popular ghost stories in North Carolina?
While the Grove Park Inn's Pink Lady might just be the most popular ghost story in North Carolina, there are plenty of other scary stories floating around that many believe to be true, while others believe them to be more of a cautionary tale. If you find yourself at Helen's Bridge in Asheville, you might run into some car trouble. Legend has it that a woman hanged herself from the bridge after her daughter died in a fire. Some people claim to have even seen her asking for help in finding her daughter. Maybe she causes the car troubles on purpose so folks can help her find her daughter? That's one theory, but many believe the bridge also has a different, darker energy that lurks around, and some people have reported seeing huge, monster-like shadows lurking around in the treelike. Some have even said they've been scratched and pushed while exploring the area. You'll want to be careful if you decide to investigate this haunted place in North Carolina, that's for sure.
Address: The Omni Grove Park Inn, 290 Macon Ave, Asheville, NC 28804, USA
Address: Green Park Inn, Blowing Rock, NC 28605, USA
Address: The Carolina Inn, 400 Forsythe St, Fayetteville, NC 28303, USA
Address: 1889 WhiteGate Inn & Cottage, 173 E Chestnut St, Asheville, NC 28801, USA
Address: The 1927 Lake Lure Inn and Spa, 2771 Memorial Hwy, Lake Lure, NC 28746, USA
Address: The Winds Resort Beach Club, 310 E 1st St, Ocean Isle Beach, NC 28469, USA